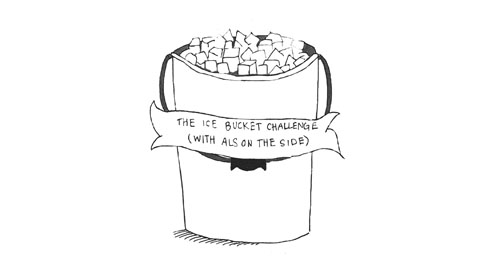 By now, almost everyone has seen or done the ALS Ice Bucket Challenge. Its immense presence on Facebook, Instagram, Twitter and other social media outlets has attracted worldwide attention to a disease that was relatively unknown. At this point, the phenomenon hardly needs explanation. Despite its popularity, we at the Ultraviolet believe that the Ice Bucket Challenge is not effective in educating people about ALS.
Corey Griffin started the Ice Bucket Challenge after watching his friend Peter Frates struggle with Amyotrophic Lateral Sclerosis (ALS). Griffin's goal was to raise awareness for the disease, which causes severe muscle weakening due to motor neuron deterioration. The challenge requires participants either to dump a bucket of ice water on their heads or donate $100 to an ALS foundation instead. The outcome of the hugely popular challenge has been largely positive. Ice Bucket Challenge videos have been viewed over 10 billion times and reached over 440 million people. According to Forbes, the challenge has raised more than $100 million for research into "degenerative neurological disease." From July 29 to Aug. 11, the ALS Association raised about $2.3 million from over 71,000 donors, whereas the organization only collected $25,000 during the same time period last year. However, most of the $100 million raised for research will not go toward finding a cure for ALS, a fact most participants are unaware of.
In its 2014 financial report, the ALS Association revealed that only 27% of the money donated goes to research, while 14% goes to fundraising and 32% is allocated to public and professional education. We at the Ultraviolet believe far too much money is designated to raising awareness. The money would be better spent on research and ultimately a cure.
Pouring ice water over ourselves has become more of a fad and less of a promotion of awareness. In many videos, people neglect to even mention ALS or, in other cases, quickly and quietly mumble the three letters before dumping ice on themselves. Many celebrities have also participated in the challenge, and it seems some partake because they feel the need to, not because they truly care. In Emily Blunt's ice bucket challenge, her husband John Krasinski surprises her with ice as she is leaving her car with groceries in her hands. They neglect to mention the cause and instead treat the challenge like a meaningless, playful prank.
While the donation money is not being used most effectively and people seem uninformed, the videos have undoubtedly raised awareness. Regardless of understanding, more people in the world have heard the term "ALS" and hopefully feel compelled to understand what it truly is. By all means, dump a bucket of frigid ice on your head if you feel compelled to do so, but keep in mind the 5,600 people diagnosed with ALS every year and remember that the challenge is for them, not us.