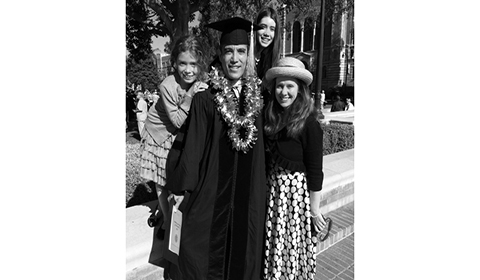 As students wrapped up the school year, three Marlborough faculty members were preparing to finish their dissertations and master's degrees. This summer, mathematics instructor Darren Kessner, Dean of Student Life and foreign language instructor Regina Rosi, and Ninth Grade Level Dean and English instructor Brett Quimby spent their free time working toward and ultimately receiving advanced degrees.
Kessner, who joined the Marlborough community in the second semester of the 2013-2014 school year, received his Ph.D. in Bioinformatics from UCLA at the beginning of the summer. In addition to his core sequence of classes taken at UCLA throughout his five years, Kessner spent three rotations of about six weeks each in various labs to find the field in which he wanted to do research. Kessner ultimately decided to study population genetics and patterns in the DNA within this data. He believes this research has allowed him to incorporate more statistics, such as genetics, into his pre-calculus classes as well as his computer programming classes. Kessner mentioned that by attaining his doctorate, he was able to learn more about the application of these computer programs in the real world.
"Nowadays, biologists are using all computer analysis after collecting data and writing new algorithms and software for this purpose. Now when I am teaching, I know what applications people can use in these different programs for later in life and how to apply this," Kessner noted.
Rosi has spent the past four summers in the Middlebury Language School Graduate Program working on getting her Masters in Spanish with a focus in teaching foreign language in secondary education. In 2010, Rosi was encouraged by her parents to pursue an advanced degree. Rosi spent the first three summers at Middlebury's Vermont campus, but for her fourth and final summer, she studied at the campus in Buenos Aires, Argentina. Rosi said she loved the fact that she could spend all her time studying and being able to fully immerse herself in the program over the summers and not have to worry about cooking, cleaning or paying bills.
"This was the most rewarding academic experience I have had. I was able to meet so many like-minded people who I was able to relate to. What's cool about graduate school is that you are in a place surrounded by people who have such similar interests and goals to you." Rosi explained.
Rosi feels as though she was able to come back to her classes and bring back new teaching styles, as well as incorporate more insight about Latin American cultures.
"I think it is becoming a necessity to have an advanced degree. Previously I did not think I could learn more to enhance my Spanish teaching abilities, but every single summer, I would come back to Marlborough and apply new skills to my teaching style," Rosi said.
Emily '15 was a student in Rosi's Spanish II class prior to her receiving her Masters and is now a student in her Spanish IV class.
"I think that Ms. Rosi seemed to come back this fall with a much broader view of the whole learning process as well as Latin American culture which is a huge part of the Spanish IV curriculum. She also seems ecstatic to have received her degree, and this enthusiasm is portrayed through her teaching, making the class all the more fun and exciting," Emily said.
Like Rosi, Quimby also spent his past four summers at the Bread Loaf School of English, pursuing his Masters in English. Over three summers he studied in Vermont, Oxford and North Carolina. Quimby said he feels as though getting his Masters has allowed him to become a better teacher. He was able to broaden the content of material he can teach since he has been able to focus in areas of English that he had not studied before in as much depth, such as English literature prior to 1600 and courses on Shakespeare and Faulkner. He also noted that he can better relate to students because he was just recently a student himself.
"One of the best things about Bread Loaf is that it is a bunch of teachers taking classes, so there is always conversation about the process of teaching," Quimby noted.
Kessner attributes the rise in the number of advanced degree recipients to the environments in which people work.
"I don't know if I can say there is a trend in society to get an advanced degree, but I think to have three teachers come back to school this fall with advanced degrees shows that the teachers at Marlborough really love learning. I think it is very important for the teachers to not stop learning and are always progressing," Kessner stated.