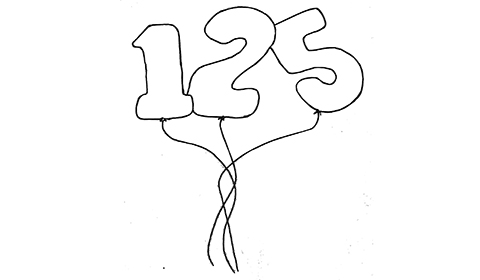 On Saturday, Oct. 11, Marlborough parents, teachers, alumnae and families of alumnae will gather on Booth Field to celebrate Marlborough's 125th birthday. The event's purpose is to celebrate Marlborough and its history.
"This will definitely be the biggest anniversary event Marlborough has ever hosted…There will be a huge cake designed to look like Marlborough," said Director of Advancement Lynne McCarthy, who is the parent of a Marlborough alumna and a member of the 125th Birthday Bash's planning committee.
The event's planning committee is headed by Community Outreach Coordinator Miranda Payne '94 and Marlborough parent Linda Myerson Dean '77. The committee, which started its work a year ago, also consists of Head of School Barbara Wagner as well as other Marlborough parents, alumnae and parents of alumnae.
According to Payne, the birthday celebration "is not a black tie, fussy formal event." She added, "[The members of the planning committee] want it to more of a fun night and a celebration. So it's dinner under the stars with great music and dancing. The only dress code we have suggested is to be festive!" said Payne.
Throughout the celebration, guests will "travel back in time through Marlborough's rich 125-year history," as promised in the invitation. Old photographs of Marlborough's campus and students will be displayed throughout the venue. There will also be a "125 Yearbook" in which members of the Marlborough community can purchase ads to share their memories, photographs and good wishes for the School.
According to Payne, the event is not a fundraiser for the School. Tickets, which cost $175 each, will be sold to help to cover the costs of the event.
"We are raising money for the party, but the party is paying for itself," Payne said. "We have tried to incorporate as many alums as possible. It's been really fun to have different generations contribute different things."
Marlborough alumna and award-winning chef and restaurateur Suzanne Goin '84 will be catering the event. Goin owns and runs many popular restaurants in Los Angeles, including A.O.C, Lucques, The Tavern and The Hungry Cat.
There have been approximately 500 RSVPs so far, and the committee is expecting a total of 750 guests on the night of the event. "I'm really excited to attend this event and celebrate the School's rich history!" Marlborough parent Lidija Wigram remarked.
The birthday bash will also mark the official release of An Ever-Enduring Spirit: Marlborough School 1889-2014, a book by Judy Campbell '65.
"I think the most exciting part will be getting all of these generations, male and female, together on campus who haven't been here in years. And for the grandparents and parents to see campus this way will be great because I promise the campus will be transformed. It will definitely be an evening to remember," Payne said.