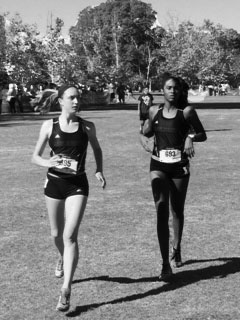 Nervous energy and excitement are in the air as runners in the Mission League prepare to race under the blazing sun. This year, Marlborough's varsity cross country team only has six runners, making it the smallest team in the Mission League.
In the Mission League, cross country teams need at least five runners for their team scores to count. Marlborough's team of six barely meets requirement for scoring but is still one runner shy of what's normally considered a full team. According to CIF regulations, varsity cross country teams can have up to seven runners. Other members of the team, besides the top seven, are scored as JV runners. This year, all six of the Marlborough cross country runners are competing on the varsity level.
In the last two years, the typically small cross country team has gotten even smaller, due in part to lack of student interest and the fact that many of the School's runners have graduated and not been replaced by incoming freshmen. With 22 girls, this year's 7/8 cross country team is unusually large, however, which gives Athletic Director David Collicutt hope that the team may grow in the future.
"[Marlborough] has a long history of success," Collicutt said. "[The cross country team has] a series of league championships. [The] coaches have done a really good job at turning the girls' enthusiasm into championship success."
Bianca '16, who finished first and set a course record at the Sept. 13 Rosemead Invitational, believes that the small size of this year's varsity team adds to the pressure to perform well in races and to the closeness of the team itself.
Others, however, wish the team were bigger.
"The practices are less lively and don't have as much energy," Kate '15 said. "The older girls don't have anyone looking up to them," she stated, believing that the older members of the team might feel more motivated to set an example if there were more younger runners on the team.
"[Running] is one of the most natural things in the world…and you can see a difference; you put in what you get out," Kate said.
She encourages girls to try out for the team in the future because, especially with such a small team, every runner makes a difference.