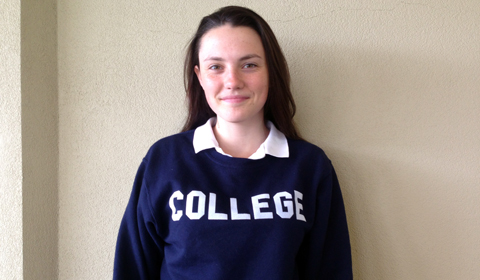 Seniors at Marlborough for more than 20 years have sported college sweatshirts starting the Monday after spring break.  This Marlborough tradition started as a way for seniors to take pride in where they are headed the following year.  As we know, the college process can be extremely stressful.  However, this Marlborough tradition focuses more on the excitement that comes along with the process as opposed to the anxiety.
Zoe '15 enjoys seeing the seniors wearing their college sweatshirts.
"It's inspiring and motivating.  It is reassuring to know that all my hard work will pay off in the end," Zoe said.
Although this Marlborough tradition seems like it is unanimously supported by all grades, there are mixed feelings towards this long-lasting practice.
However some students do not have as positive of an outlook on college sweatshirts.  According to Angelica '14, many seniors decided to opt out of wearing college sweatshirts by donning sweaters with "Kale" instead of Yale or simply "College".  She believes that the reason for this was that some seniors did not condone the stress that accompanies the college process and others just found it comical.
"I personally did not choose to wear a college sweatshirt because I do not care to show it off in that way.  I feel like I would rather have a conversation about it with someone than just label myself," Angelica said.
To all you non-supporters out there, I am sorry to tell you that there is no talk to change this tradition.  So look forward to seeing them again next year!