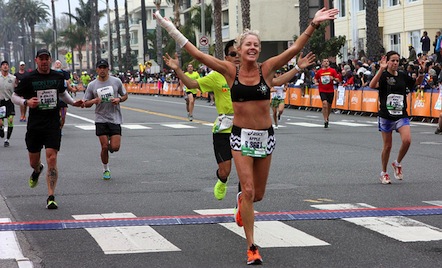 On Sunday, Mar. 9, thousands participated in the 29th annual L.A. Marathon. But the soaring temperatures certainly did not stop any of these ambitious runners, including our very own English instructor Elizabeth Frazier, who succeeded in completing the entire marathon. Race-day temperatures reached a high of 81 degrees, which many confirmed was the hottest temperature for the marathon day in the past five years.
While everyone stepped up to the starting line on Sunday morning with an urge to beat the heat, the race proved to be a difficult feat. Due to the rising temperatures, runners' times faced a noticeable change in comparison to past years and many were in need of medical assistance. Nearly 348 people were not able to cross the finish line and extra help from L.A. County paramedics and other private transport vehicles, like ambulances, were summoned. At this point you may be asking yourself, "So, why would anyone want to run the L.A. marathon?" Well, here are a few benefits of running:
1. It's so easy because it requires no fancy equipment! Just throw on some running shoes and a sports bra, and you're ready! Plus, you won't need to learn any new skills because most of us know how to run.
2. It's an amazing workout! Going on a run will burn a large amount of calories. Sometimes up to 700 calories in an hour (if you are really working hard).
3. It improves emotional well-being! Running for a long time can help one feel more energetic and rejuvenated. It has even been recommended to help treat clinical depression by many professionals.
4. It can prevent disease! Running may reduce the risk of various types of cancers like colon, breast, endometrial and lung cancer. Running helps to lower blood pressure and creates better cholesterol, while also boosting immunity.
The people who ran in the L.A. marathon this Sunday may be crazy, but they are probably happier, healthier and more in shape than most of us, so why not give it a try!