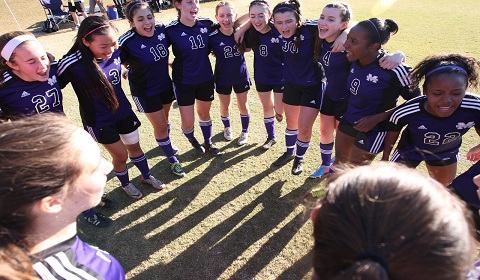 The Marlborough Varsity Soccer Team finished the regular season with ten wins, ten losses, and five ties. The team had been practicing since the start of J period in September and headed into their California Interscholastic Federation (CIF) playoff season on February 19.
On Dec. 7, before the Sunshine League's season started, the team competed in the El Segundo Tournament, where they won the first three games but lost to El Segundo High School in the championship game.
Additionally, just before Winter Break, the team competed in the Tri-Valley Classic Tournament in Walnut Creek in Northern California, where the team faced teams in the Division 1 league.
Forward Kathryn '14 noted that, "The trip to Northern California was a very rewarding experience. I loved spending time with my team on and off the field."
Coach Jeff Blumkin agreed with Johnson and said that he felt that "the team worked and battled each opponent every minute of every match. The ultimate goal for our coaching staff was not the wins and losses but the bonding that the girls did throughout their four days together.  All the players were hanging out together, whether it was at meals, playing cards games in someone's hotel room, or just relaxing in the lobby."
 While facing tough competition in the beginning of the season can be challenging, Kathryn said that "playing tough opponents is a good thing, as we are able to become better as a team and improve our skills, making the transition to the in-league games easier."
Forward Emily '15 agreed with Kathryn. "We learn to play really well as a team and play as hard as we can during the pre-season games. It was nice to see that we were competitive among those teams, which built up all of our confidence. This pre-season prepared us for playing Notre Dame Academy, Ramona Convent Secondary School, Marymount High School and Immaculate Heart High School, which lead us to start off the season more positively than past years," Emily said.
 Last season was the first time that the Varsity Soccer team had qualified to go to a CIF playoff game in more than five years. The team won the wildcard match at home and then traveled to Quartz Hill, losing 2-1 to the eventually CIF Division Four runners-up. Furthermore, until this season, the team had not beaten Notre Dame Academy or Marymount High School in over five years.
This season, the team finished third in the Sunshine League. On Feb. 19, they headed into the wildcard game of the CIF playoffs but lost to Paramount High School.