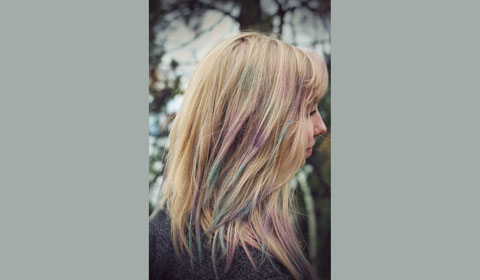 Imagine. You're currently at Coachella, and everyone around you is wearing flower headbands. You want to be cool and fit in, but at the same time, you want to stand out with your own trend. Well, I have the perfect tool for you to use in this situation: hair chalk—chalk that is safe to use in your hair!
Hair chalk, a fashion trend that is becoming ever so popular, is both indie and boho, but can also be crafted with some funk to make a more edgy look. You can use pastels that are available at an art store or you can invest in hair-chalk products sold at Urban Outfitters, Free People or a variety of other popular clothing stores.
Here is a short step-by-step tutorial on how you can get this cool, trendy look yourself.
Step 1: Obtain the colors of chalk that you want to use. It is best to start chalking with the lightest color you will be using before moving to the darkest, as your gloves or fingers will become stained and can taint the subsequent colors.
Step 2: Dampen your hair using a spray bottle, wet washcloth or towel. Getting your hair wet with some water helps the chalk stick and will allow it to stay longer. Only wet the parts that you want to color.
Step 3: Cover your clothing and shoulders with a towel, old shirt or robe. The chalk may stain clothes or your skin, so be wary of that.
Step 4: Apply the chalk to your hair in whatever pattern you want. Have some fun, and do something crazy if you're up to it! These chalks are temporary, so you have a lot of freedom to play it up!
Step 5: Lastly, use a straightener or curling iron to lock in the color. Make sure that your hair is dry enough before using one of these appliances.
Now that you have the formula to give yourself a makeover, check out these cool looks, and then create your own!