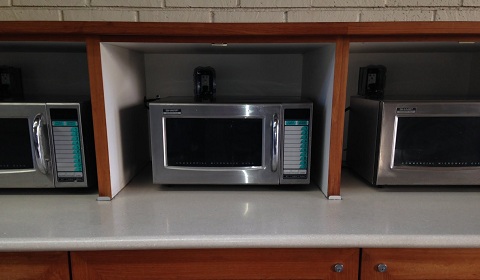 Because of a lack of functioning microwaves, many Marlborough girls share the popular opinion that the School should replace the appliances outside of Café M. The microwaves are meant to allow the convenience of a hot lunch as an alternative to hot food in Café M. But despite their helpful intention, the outdated microwaves bought in 2009 create a nuisance according to many girls. Out of the six microwaves outside of Café M, only four microwaves work because of a lack of maintenance.
"It's just the lines are really annoying if you're waiting there for five minutes. Sometimes I just eat my food cold because I don't want to wait," Mia '16 said.
Long lines for the microwaves, which particularly increase after All-School Meetings in Caswell Hall, can contribute to students' frustration. Although girls often put their lunches in one microwave together in order to lessen the delay, other girls heat up frozen lunches that take up to two to four minutes to cook, increasing the time in line for those still waiting.
Girls also noted that they have difficulty entering their desired cooking time on the microwaves. For example, the "3" button should correspond to three seconds; however, instead, it corresponds to 15 seconds. Girls said that another factor for the lengthy waits and subsequent irritation is that the microwaves do not seem efficient at heating up food.
"Heating up my pasta today, on a functioning normal microwave, it would take 40 seconds, but on this one I had to do it for over a minute," Julia '16 said.
Even though the microwaves seem antiquated, they were initially bought to be long-lasting and very efficient.
"We bought these because they were a little bit more high-end, and were industrial. So, they should last a little bit longer [than the previous microwaves]," Facilities Manager Phillip Burns said.
Some girls also suggested that new microwaves could be spread out around the campus in order to shorten waiting times and create a more enjoyable lunch period.
The facilities staff has been subsequently notified about the microwaves dilemma and plans to look into this problem; however, the long lines continue to persist, and students continue to complain about the lack of user-friendliness and effectiveness of the current outdated microwaves.