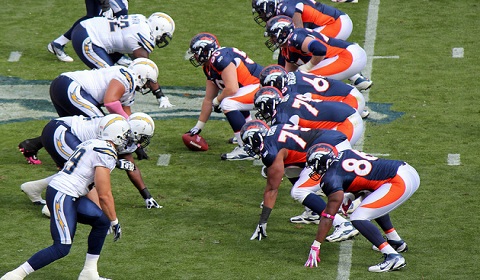 Heading into divisional-round matchups, here are my predictions for who will advance into the conference championship games:
New Orleans Saints vs. Seattle Seahawks: After suffering a 34-7 dismantling at the Superdome in Week 13, Drew Brees and the Saints return as the visitors to the NFL's noisiest stadium, seeking redemption against Russell Wilson and the Seahawks. A loss to the Arizona Cardinals in Week 16 proved that Wilson is not invincible at home. However, Wilson's composure on offense and the 137.6 decibels of screaming fans on defense will buoy the Seahawks into the next round.
San Francisco 49ers vs. Carolina Panthers: Coming off of six straight wins, the 49ers, led by Colin Kaepernick, carry their momentum into a matchup against the second-seeded Panthers. Panthers quarterback Cam Newton, the first overall pick in the 2011 draft, earned his second visit to the Pro Bowl, but the pressure of his first playoff game and the team's first playoff appearance since 2008 will interfere with his mental game. San Francisco is hot at the right time, and Carolina's lack of experience will allow the 49ers to overcome the Panthers on the road.
Indianapolis Colts vs. New England Patriots: Second-year phenomenon Andrew Luck guides the Colts into Foxborough to face the league's all-time winningest playoff duo, Patriots coach Bill Belichick and quarterback Tom Brady. But regardless of prior success, this Patriots club enters the game with a depleted receiving core, now missing wide receiver Aaron Dobson and tight end Rob Gronkowski, and finished the regular season with the league's 30th-worst run defense, which even the Colts' lackluster attack on the ground can exploit. Luck, the young sensation, will earn his first playoff win over Brady, the future first-ballot Hall of Famer.
San Diego Chargers vs. Denver Broncos: Whereas Peyton Manning and the Broncos cruised into the playoffs as the number-one seed with a 13-3 record, the Chargers squeezed in as a wildcard on the last day of the regular season. Despite Denver's dominance over the rest of the league, San Diego upset the Broncos in Week 15 with Philip Rivers at the helm. Nonetheless, Manning's exacting arm and formidable receivers will dominate the Chargers' 27th-ranked pass defense under the lights at Mile High Stadium.