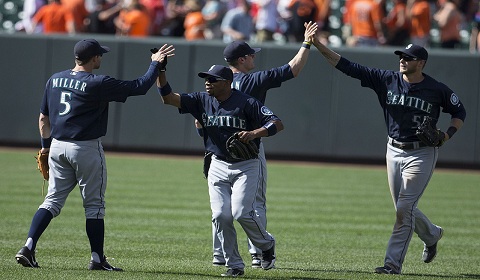 Only 36 days until pitchers and catchers report to spring training! Since the last out of the World Series in November, Major League Baseball teams have focused on fortifying their rosters. With the season looming, here are the teams that have been most active with signings and trades.
Seattle Mariners: As the highest bidder, the M's nabbed second baseman Robinson Cano to the tune of $240 million over 10 years. In addition to the five-time Silver Slugger, outfielders Logan Morrison and Corey Hart joined the club out of free agency. The team is also a forerunner in the sweepstakes for starting pitcher Masahiro Tanaka from Japan.
New York Yankees: Despite losing Cano to the Mariners, Yankees general manager Brian Cashman dominated off-season headlines with multiple big-name signings. Centerfielder Jacoby Ellsbury will wear pinstripes for the next seven years for $153 million. Continuing to strengthen their outfield, the Yankees agreed to a three year, $45 million contract with Carlos Beltran. And in order to address its weakness at catcher in recent seasons, the team added seven-time All-Star Brian McCann—who came with an $85,000,000 price tag—for five years.
Los Angeles Angels: After finishing last season with a losing record, the Halos desperately needed to overhaul their rotation to support their lineup, which already featured sluggers Josh Hamilton, Albert Pujols, and Mike Trout. The club traded with the Arizona Diamondbacks for starting pitcher Tyler Skaggs and reliever Hector Santiago. The acquisition of third baseman David Freese, the 2011 World Series MVP originally from the St. Louis Cardinals, will not only add power to the Angels, but will also allow Trout to transition to his favored position in center field with the departure of Peter Bourjos.
St. Louis Cardinals: Despite St. Louis's small market, the Cards consistently improve their lineup by the time that the off-season dust clears. This winter, St. Louis inked shortstop to Jhonny Peralta to a deal for $53,000,000 over four years. The Cardinals will also not suffer from the loss of Freese in the trade with the Angels. Matt Carpenter will transition from second to third base, and Peter Bourjos will provide speed on the basepath and a stellar glove in the outfield.