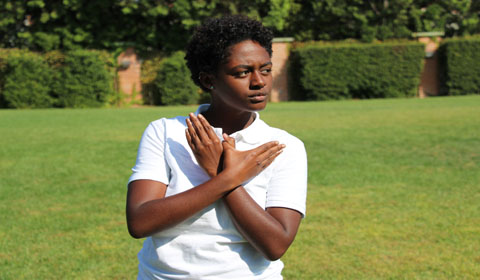 I have a job at Jamba Juice on Larchmont. It's a weird gig; serving my classmates is bizarre, but I love it. The surprised looks on my classmates' faces when they walk up to order is always fun. You may walk in and see how skilled I am at working "the reg" (Jamba Juice slang for the register) or marvel at my fast-paced smoothie-making skills, but let me tell you, being a pro-Jamba Juice team member did not come easily.
I remember my first day: Oct. 5, 2013. Being the naïve person I am, I thought I'd just jump onto the floor and start working right then and there. That's not how it works. For two weeks, I had to spend four hours a day studying "Jamba Cards." Let me tell you, flashcards follow you everywhere. These "Jamba Cards" are filled with food safety facts, customer service tips, machine assimilation "hotos" and more. My Marlborough instincts kicked in, and I memorized every single detail on these cards. I seemed insane, obsessed, and high strung, but hey, anything it takes to learn the common allergens that you might find in a Jamba Juice product.
After learning the information on all of the cards, I thought I'd finally be a marvelous Jamba employee. Wrong. I was given the simple task of mopping the floor before closing. "Easy," I thought to myself, "Just put the water and sanitizer in the bucket, and move the mop around." I poured the liquid into the bucket and proceeded to mop. For some reason, piles of suds were accumulating on the floor. It looked as though a dishwasher exploded. "I can't just leave it like this," I thought to myself. Being the brilliant problem solver I am, I grabbed a stack of paper towels and wiped away the suds. Mind you, there are cameras everywhere in the store, including the backroom where I was mopping. The monitor for these cameras is in the manager's office, so I shouldn't have been surprised when my shift manager walked out and asked, "What are you doing?" By this time, there were paper towels stuck to the suds on the floor, and suds from
the mop were all over my pants and even my face. I was preparing for the "you're fired" speech as I turned to face my manager. She looked at me quizzically, half smirking. She took the mop and said, "You know there's a strainer for the mop, right?" I felt like an idiot, but it beat being fired.
Thankfully, I've come a long way. I mean, I still make the occasional mistake but nothing as bad as flooding the backroom with soap suds or putting parchment paper in the oven, which, in case you're unaware, explodes into smoke clouds when heated. Instead of making disastrous errors, I now only make small ones, like trusting small children to place their own orders.
The other day, a boy came in with his mother. He walked up to the register quite confidently and asked for a toasted Belgian waffle. I punched in the order and got fairly startled when the mother suddenly stated, "No." The boy got worked up; he and the mother had an argument over the number of calories in the waffle. I sat, waiting for someone to specify what exactly they were ordering. The mother finally ordered a smoothie (and not the waffle), and out of nowhere, the boy threw his fists against the counter and shouted, "YOU ONLY WANT ME
TO HAVE WHAT YOU WANT ME TO HAVE." Considering the boy was only about six, this statement seemed quite profound, so quite naturally, the mother gave in. She ordered the waffle for him.
About seven seconds later, the boy shouted "NO! CANCEL THE ORDER BECAUSE I DON'T WANT IT." This confused me a little. I canceled the order. The mother then spit out a firm "no" again and stated, in the most motherly way possible, "You wanted the freaking waffle, so I'm getting the freaking waffle." I punched the waffle in again, and before any- one could disrupt the transaction once more, I quickly stated the total.
Though small children are cute, they are vicious when it comes to cravings and sweets. This is why getting parental permission before entering in an order is highly encouraged in or- der to prevent triggering a family food crisis.