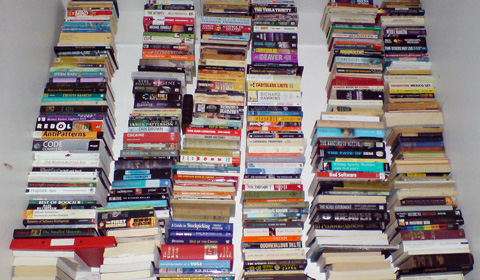 In an effort to address student discontent with the annual All-School summer reading book, Marlborough School's faculty and staff have decided to replace the All-School book with annual themes that will inform the choices of a summer reading book for each grade level.
We at the UltraViolet agree that change is necessary.
Even though the All-School book was always required, only a portion of the Marlborough community read it. The lack of participation and accountability made the idea of an All-School book unsuccessful and dispensable.
In past years, a committee of faculty and interested students in every grade level gathered to suggest and test out books. After a series of voting rounds, the committee came to a consensus on a book and proposed it as an All-School book to Assistant Head of School and Head of Upper School Laura Hotchkiss '86 and Head of Middle School Robert Bryan.
Even though the committee consisted of students from each grade, it always struggled to find a book that appealed to everyone and was sophisticated enough for twelfth graders and appropriate for seventh graders.
Additionally, efforts to incorporate the All-School book into the curriculum were inconsistent. Three years ago, when the All-School book was The Hunger Games, we had an All-School version of the Hunger Games, in which the whole school was able to interact on common ground and form a sense of community. This year, however, we only talked about The House of the Scorpion in our English classes for one day.
The UltraViolet staff agrees with the administration's current plan to get rid of the All-School book and use one of the School's four core values (Community, Excellence, Confidence, and Honor) as an annual theme to inform the selection of summer reading books for each grade level. This will reduce the number of books we read over the summer and will create even more of a direct relationship between the values of the School and the Marlborough English curriculum. The new plan will ensure that every summer reading book is relevant to each grade's maturity level, and it will be easier to hold students accountable for reading and allow them to have a more meaningful relationship with the text.