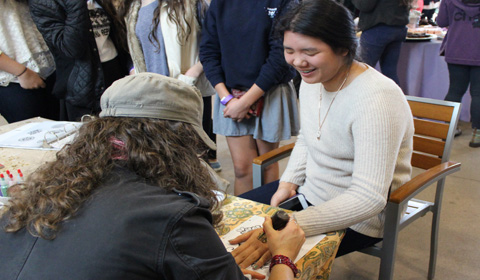 The taste of cookies and cupcakes, the look of smiling faces all around campus, and the sound of a girl's cheers when she wins a raffle basket could only mean one thing: Winter Fest!
On Thursday, Dec. 19, Marlborough School students and faculty participated in Winter Fest, a school wide celebration marking the end of semester exams and the start of the winter break. Though an annual tradition, this year's Winter Fest was different from years past because it coincided with the 166th birthday of Mary Caswell, the School's founder.
Foreign Languages Department Head Leigh Hansen and Dean of Faculty and Mathematics Instructor Sandra O'Connor are in charge of all the School's 125th anniversary celebrations this year.
"We didn't have a birthday date for the school, so we thought [of] Mary Caswell's birthday. 'Wonder when that is?'" Hansen said. "And lo and behold it was Winter Fest day, and we thought, 'How perfect!'"
Winter Fest kicked off with a Holiday Sing Along in All-School Meeting in Caswell Hall led by All-School Council. When All-School President Kyla '14 announced that it was Caswell's birthday, the whole School sang "Happy Birthday" to Caswell. Kyla then presented an oversized cupcake to Head of School Barbara Wagner. Upon leaving Caswell Hall, girls saw towers of over 500 marbled cupcakes with purple sprinkles waiting for them outside the Academic Resource Center.
"I think it's very Marlborough just to have the cupcakes!" Molly '16 said.
Hansen agreed, adding that she and O'Connor wanted to honor the annual Winter Fest customs but add cupcakes to celebrate Caswell's birthday.
Just as in years past, Marlborough parents played a large part in organizing and setting up this year's Winter Fest. Some parents spend months planning Winter Fest every year, while others volunteer their time for a few hours on the day of the event, helping with a booth or serving food, for example.
"I think it's fun. I'm just standing here watching the world go by, and everyone seems so happy," Shannon, mother of Olivia '14, said.
Girls participated in many events like raffle baskets, popular photobooths and henna tattoos. The raffle baskets helped raise funds for each class, which are used for class treats and trips. Many girls took home Lululemon Athletica gift cards or day passes to Disneyland.
Although the School did acknowledge Caswell's birthday, Ariel '16 thought the School could have done something bigger to celebrate the occasion.
"I'm not really getting the birthday vibe. It's only the cupcakes. [The School] should do two different celebrations, like a different one for [Mary Caswell's] birthday," Ariel said.