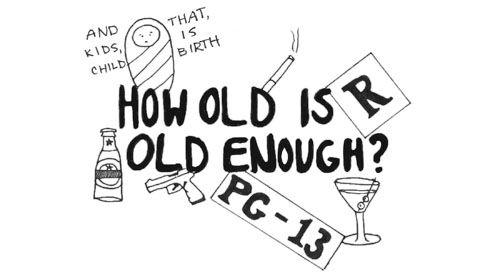 It is difficult to generalize students' levels of maturity by grade. Some seventh graders watch R-rated movies, while some seniors must follow strict curfews and are only permitted by their parents to enjoy media that is free of sexual-or-drug-related content. Because Marlborough School cannot fully grasp the mental and emotional maturity levels of its students, it often stratifies their privileges by grade, leading to inconsistencies in the estimation of their maturity.
It is a school policy, for example, that teachers should not show movies that are rated R (or PG-13 for seventh and eighth graders) without first discussing the content and educational value with Assistant Head of School and Head of Upper School Laura Hotchkiss '86 or Head of Middle School Robert Bryan and then sending an email to parents.
This year, administrators and teachers debated allowing Honors American Studies and AP United States History students to see the R-rated movie 12 Years A Slave. Even though students were given the option to not watch the movie, parents were emailed to confirm their permission, and teachers held several preparatory discussions, administrators ultimately decided to indefinitely postpone the viewing of the film until further discussion.
In the past, History and Social Sciences instructor Michael Rindge has shown historical footage from R-rated movies to tenth graders in his AP United States History class, only after discussing the topics in detail and giving his students the option to not watch the clips.
Rindge said that the most difficult clip he has shown was from the film Amistad, which depicts the awful conditions of ships that transported slaves from Africa to the Americas during the Middle Passage. 12 Years A Slave features content that is as disturbing as the content in Amistad and also as educationally beneficial. Like Amistad, the film is an accurate depiction that would bring life and context to lessons about slavery.
On other occasions, the School has overestimated the maturity of its students. Because Marlborough educates girls from 7th to 12th grade, events that include the whole school are difficult to regulate. Upperclassmen can feel as though they are being treated like juveniles, while younger students may be exposed to things for which they are not prepared.
The plays performed by the drama department, for example, are closely examined because the audience ranges from young children and prospective students to alumnae and parents. Three years ago, students performed the musical Chicago, and many spectators were shocked by the racy subject matter, scanty costumes, and provocative dance numbers. Last year, Avenue Q contained some content that spectators found surprisingly mature.
It is challenging to strike a balance between presenting students with material that suits their level of maturity without accidentally exposing them to subjects that might be too sophisticated or too graphic.
School administrators often refer to the website for Common Sense Media to determine if certain material is suitable for students. The resource provides reviews of movies, books, and video games and estimates the appropriate age of consumers. The website's suggested age for watching 12 Years A Slave and Amistad is 14.
While Common Sense Media is a great resource, maturity requirements are difficult to regulate because the maturity of material can offer educational benefits that something more appropriate for a specific audience may not. These benefits can sometimes outweigh the negative impact of being exposed to violence, sexual content, bad language, or emotionally draining material. The educational benefits of watching a video in 9th grade health class of a woman giving birth, for example, outweighs the risk of being ignorant about or upset by childbirth.
Marlborough strives to take the balance between educational value and age-appropriateness into consideration while matching content to audience but does not always ask what the audience itself believes is appropriate. It would be helpful for teachers and administrators to hold discussions with students before making final decisions about what can and can't be shown and giving students an option to not participate in viewing. This would allow administrators to have a better understanding of students' levels of maturity and let students feel as though their voices are being heard and their maturity levels properly estimated.