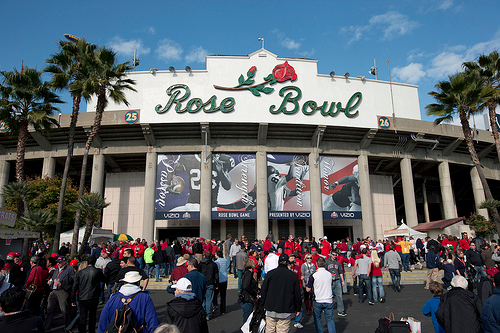 Disclaimer to my readers: Even though I praise the Ohio State football program in this article, I bleed maize and blue. Go Michigan!
For the first 11 games of the 2013-2014 college football season, analysts projected a Bowl Championship Series National Championship Game matchup between the 11-0 Alabama Crimson Tide, the two-time defending champions, and any other unfortunate team destined to suffocate at the hands of the country's most intimidating defense. During Alabama's quest for an unprecedented third consecutive title in the BCS era, however, the highest ranked team in the nation's apparent hegemony in the college football universe crumbled with zero ticks remaining on the clock when their cross-state rival Auburn Tigers, who entered the game with ten wins and one loss, returned Alabama's missed field goal for a touchdown to win the game as time ran out. Hours before Tigers fans swarmed the field for a victory celebration, the Ohio State Buckeyes (12-0) edged out a win over the Michigan Wolverines (7-5), while the Florida State Seminoles (12-0) dominated the Florida Gators (4-8). Atop Sunday's BCS rankings rested Florida State and Ohio State as the respective numbers one and two, the only undefeated programs in the country. (Sorry, I'm excluding Northern Illinois.) Now boasting an 11-1 record, Auburn lurks at number three.
Despite the Buckeyes' unblemished season thus far, some fans contend that Auburn deserves the opportunity to defend the seven straight national championships of the Southeastern Conference (SEC). The university's Athletic Director, Jay Jacobs, declared that excluding Auburn from the title game on Jan. 6 at the Rose bowl would be "a disservice to the nation" if the team triumphs over Missouri for the SEC championship this weekend. In the last year before the transition to a four-team playoff for the collegiate title, I believe that the true "disservice to the nation" has been the current system's perennial inclusion of an SEC team. Without a playoff, champions of other conferences have been excluded from contention for the national title due to the obsession with the SEC. Tigers fans have also pointed to the Buckeyes' failure to blow weak Big Ten teams out of the water, week in and week out. These fanatics ignore the fact that this season, Auburn has not routed opponents either; the Tigers suffered a loss, caught a Hail-Mary that bounced off of two defenders to defeat Georgia and needed a miraculous final score to overcome Alabama. The Ohio State Buckeyes, on the other hand, have not lost once in two years, demonstrating dominance over their opposition for 24 straight games. They have earned a spot in the final BCS Championship Game.