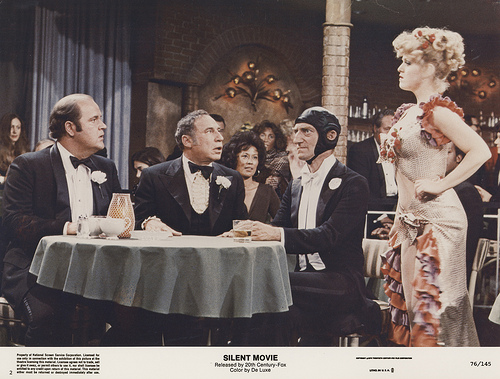 I pity the fools who have never experienced the magic of silent films; unfortunately, most of my friends are those very people. Not that I blame them for being wary. We're so used to movies filled with dialogue and oftentimes packed with wall-to-wall action. A whole film stripped of speaking must seem like a test of endurance. But I assure you, silent films are far from boring.
Because of the sound limitations, the stories are oftentimes simple, yet they're still stocked with the drama, comedy and emotion that we crave in cinema. In place of the clunky and expository dialogue that can pervade modern-day movies, we get title cards that encapsulate a character's thoughts and move the plot forward in a single poetic statement. And the music! The orchestral scores last for the entirety of the film, providing riveting commentary on the unfolding drama.
I would argue that silent films are the purest form of cinema, the historical narratives that prove that the seventh art is an art like no other. You can get dialogue in a play, but only in the movies can you meld story, movement, scenery, music, editing and cinematography into one. The lack of talking forced directors to use their cameras to show their tales rather than tell them, leading to interesting experimentation. The foundation of today's filmmaking can be found in the wordless films of the 1890s-1920s, many created by such pioneers as Sergei Eisenstein, F.W. Murnau and Fritz Lang.
I am in love with the actors and directors of the silent-film era. My favorite silent actress is Clara Bow, with her mop of red hair and her rotund, sable-rimmed eyes. She was born to be on screen. And my favorite director and actor has to be Buster Keaton, who performs all his own infeasible stunts with a placid and slightly melancholic expression.
I don't think you can fully appreciate the films of today without seeing a silent film, because they provided the foundation for modern filmmaking. Besides, I want to gush about Keaton and Charlie Chaplin with others, so here are a few recommendations for beginners looking to peek into the "flickers," as they were called:
Metropolis
Nosferatu
The Navigator
Our Hospitality
Sherlock, Jr.
It
The Kid
The Mark of Zorro
The Cabinet of Dr. Caligari
Diary of a Lost Girl
Wings
The Gold Rush