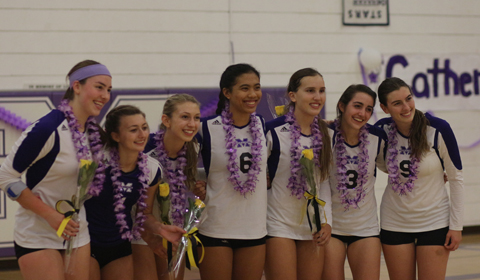 This season, the Marlborough School Varsity Volleyball team was able to defeat every team in the Sunshine League except for its biggest rival, Marymount High School.
The Marlborough team was 6-2 in the league, beating Notre Dame Academy (twice), Immaculate Heart High School (twice) and Ramona Convent Secondary School (twice), and losing to Marymount (twice). In addition to their league matches, the Marlborough team has won 11 out of 13 non-league games.
Every year, there seems to be a big run-up to the Marlborough-Marymount volleyball game. Since 1999, Marlborough's Varsity Volleyball team has lost to Marymount, who last season went on to be the California State Champions after defeating Redondo Union High School. Marymount went undefeated in the league (8-0) this season.
This year, Marlborough and Marymount met on Oct.17 at Marymount. Marlborough put up a good defense but lost in the third game, 31-29. The rivals met again on Oct. 31 at Marlborough, and the Mustangs lost 26-24 in the third game.
Both games drew large crowds representing both the Mustangs and the Sailors.
"The games were both really exciting. All of the other Marlborough volleyball teams were there cheering us on with pom poms," Outside hitter Lisa '15 said.
One reason why is there so much excitement surrounding the Marlborough-Marymount gamesis that most of the girls on the Marlborough team know their opponents on the Marymount team.
"I think one of the main reasons this game has such a big emphasis on it is that a lot of us know girls on the Marymount team, since we play with and against each other in club," Lisa said.
Marlborough Varsity Volleyball Head Coach Shari Sakamoto agreed that there is hype surrounding the Marymount game but said that it does not diminish the importance of the other matches.
"The Marymount game is a game that everyone is excited to play. This does not mean it is a game that is more important than the rest. All of our games are of equal importance," Sakamoto said.
This year, half of the Marlborough team is comprised of seniors, most of whom have been playing club volleyball for many years in addition to being on the Marlborough team.
"This [Marlborough] team is stronger than ever due to the high levels of experience the girls have through their volleyball careers at Marlborough as well as on their club teams. This team has gotten to the point where they can compete with any team in Division 1A," Sakamoto stated.
Like Sakamoto, Lisa felt as though the team has "put in the time and work and wants to beat Marymount more than ever."
During Marlborough's summer practices, the team practiced for 5 hours a day, conditioned with Strength and Conditioning Coach Lindsey Yocum and did drills and scrimmages. In comparison, the Marymount team had 12-hour practices each day; they had to play volleyball, train in the pool and run.
During the school year, Marymount's Varsity team practices twice a day, once in the morning (as early as 6:00 a.m.), once after school for two hours as well as on Sunday mornings.
Cassie Jernigan is a junior who recently transferred from Brentwood School to Marymount.
"It was hard to get used to the early morning and afternoon practices, but after weeks of training and going through it all with my teammates, the transition was easier than I thought it would be," Jernigan said.
As the defending California state champions, Marymount's volleyball players must feel a lot of pressure to maintain their title.
"We as a team know that lots of schools have goals to beat us, and this thought is what drives us to work hard in our practices," Jernagin stated.
Even though Marlborough has put up a very strong fight against Marymount, the Marymount team seems invincible. Although it is tough to lose to a big rival, Sheldon feels as though Marlborough's team is headed in the right direction.
"I am hopeful that in the near future, Marlborough will be able to defeat Marymount," Lisa said.