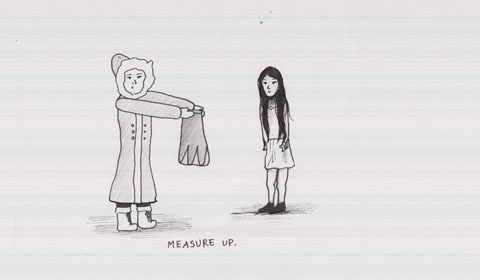 By: Remy '14, Noah '16 and Sam '16
On Oct. 15, under the hot midday sun, the senior class gathered on the tennis courts, nervous tension rolling through the crowd.
The night before, the class had exploded in outcries following an email from Mathematics instructor and 12th Grade Dean Alison Moser that informed seniors that leggings could no longer be worn on free dress days. In response to the new rule and to other new uniform regulations, the girls rallied together. At the behest of the class, one senior went so far as to write a seething manifesto.
Though the class later learned that Marlborough had not in fact banned leggings from the dress code, the "tennis court revolution" exemplifies the confusion caused by new uniform regulations.
At the beginning of the 2013-2014 school year, the School implemented a new uniform and revised the rules regarding dress code on free dress days, provoking much discussion among students about the impetus for the changes.
Why did the School change the uniform? What does the new uniform imply about Marlborough's attitude toward female bodies? How does the School plan to enforce the new regulations?
Why the change?
As a result of this year's revisions to the uniform, girls' skirts must be no more than three inches above the knee, and different skirt colors are required for students of the Middle and those of the Upper School. Additionally, only white polos can be worn and sweaters must be white, black, or gray. According to Assistant Head of School and Head of Upper School Laura Hotchkiss '86, the uniform change has been a work in progress for the last five or six years.
Previous committees, composed mainly of students, attempted to make changes to the uniform, though many of the proposed revisions were either very minor or were not accepted by the administration.
Last year, however, Hotchkiss called together a new committee that included students, faculty, parents and administrators, believing that the new committee would be more effective than previous committees because it had the input of both students and adults. The committee was motivated largely by one issue–the length of uniform skirts.
"We felt that students were not wearing their uniform in a way that was really appropriate, and there was a lot of feedback from parents and from adults about that," Hotchkiss said.
Some parents, such as Debra Shaw, mother of Genevieve '14, expressed concerns not only for Marlborough girls, but for the general image of the School as well.
"It was a real embarrassment for the girls to be seen on Larchmont or on the streets of Los Angeles because they looked like they didn't take any pride in their appearance at all, and that reflects negatively on the School," Shaw commented.
Many teachers also felt the need for a change in the uniform, citing certain frustrations regarding enforcement. History and social sciences instructor and 10th Grade Dean Tom Millar said that, because the old uniform code provided a large amount of choice, it was difficult to understand and maintain.
"Sometimes you'll hear adults say things like, 'It's becoming more wardrobe than a uniform,' and there [are] so many options that every time you have an option there are gray areas on the boundaries, and that's where it gets frustrating," Millar said.
According to Hotchkiss, this mixture of confusion, frustration and negative feedback about the previous uniform code led to the agreement that students would have fewer uniform choices, including the color of skirts.
"I do think the problem with allowing for choice means that it becomes a fashion choice, and not necessarily a uniform choice; uniform meaning consistent. One of the things we're trying to think about is what creates the best environment for learning, and being super stylish isn't necessarily [going to] help the learning environment," Hotchkiss commented.
While some girls agree that skirt lengths were getting out of control, other students, such as Nellie '17, still have reservations about the long skirts.
"Three inches is a little bit reserved. We are teenage girls and we still [want to] look good," Nellie said.
With all of the responses to the new uniform changes implemented this year, Fiona '15 points out that there will always be both positive and negative feedback about the School's choices.
"Everything that Marlborough does is always going to be questioned, especially since [the School has] taught us to do that," she said.
Where to draw the line?
Although some members of the Marlborough community believe that the uniform was altered in order to clarify regulations, simplify choices, and make the School environment more conducive to learning, others believe that the changes were made to prevent girls from being sexually objectified by people on and off the Marlborough campus.
According to foreign language instructor and 8th Grade Dean Regina Rosi, the changes were implemented to create a more productive, focused learning environment and to depict the School in a better light. She added that short skirt lengths should not be what come to mind when she tells family and friends where she works.
"Marlborough is a great school and it would be unfortunate for it to be known for its short skirt lengths," she said.
Similarly, many adults on campus, such as School Counselor Emily Vaughn, believe that the uniform change was an attempt to mitigate sloppiness in students' attire. She maintained that the matter was wholly unrelated to the sexual objectification of the student body.
"I think that girls get casual…and are not concerned with their body postures or what might be revealed…I don't think the school was responding to [the uniform] being sexualized; I think they were responding to it being all over the place," Vaughn said.
Some students believed that the lengths of the skirts were getting out of hand. Fiona said she felt uneasy when going about her daily tasks at the School because of short skirts.
"Personally, even I've found it distracting. There are girls that sit in my class with their legs open, and I feel slightly uncomfortable when I'm almost seeing someone's private areas," she said.
Some students, however, said they think the changes have to do with the objectification of students' bodies and said they believe that the longer skirt lengths would make male faculty and visitors to campus feel more comfortable.
"Obviously the uniform does have some sexual connotations, just because of the media today. I know I've heard girls talking about the fact that girls don't like to wear the skirts and the polos because culture has made [girls' school uniforms] sexualized," Fiona commented.
Several other girls interviewed said they feel that the lengthening of the skirts occurred in response to the objectification of female bodies within the media and the School's desire to prevent students from being viewed as sexual objects. Nellie agreed.
"The longer skirts were definitely to keep away a sexual view of the uniform," she said.
Enforcing the uniform
While some members of the Marlborough community believe that the new standardized skirt length will make the uniform easier to enforce, other students and teachers have questioned whether it will be enforced at all.
Some faculty, including Moser, feel that teachers did not consistently implement the old uniform code because they were unsure of what was "out of uniform."
"A lot of teachers in the past didn't write conduct infractions. They didn't know what the uniform was to know it was wrong," she said.
Moser added that she believes the simplification of the uniform has made it easier for faculty to understand what is and what is not in uniform.
Others, however, believe that the changes will not cause teachers to enforce the dress code more stringently.
Millar, for example, said that the novelty of the change has led to a small increase in awareness of the new regulations, but that he has not observed an overall change in faculty who were previously lax about enforcement.
"[The uniform's] more, you know, in the front of [teacher's] minds because it's new. But there hasn't been a broad change… most teachers that really didn't give out demerits are still not giving out infractions," he said.
Several students feel that male teachers are reluctant to issue conduct infractions because they do not want to project the image that they are focused on their students' bodies.
"When I talk to male teachers, they say, 'I'm never going to give a merit for a short skirt,' because they don't want girls to think they're noticing short [skirts]," Fiona said.
Despite these concerns, many faculty have noticed an overall increase in student compliance with the uniform code, and many students have observed that teachers have not needed to give out as many infractions for skirt length as they did in past years.
"I know [the administration] gave the teacher rulers, but I've yet to see one pull out a ruler. I think because [the skirts] are longer, in general there is less of a need to check," Caspian '15 said.