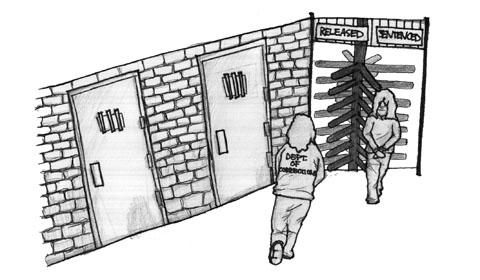 By: Margaret '15, Ariella '15 and Julia '15
In August 2008, Colorado teen James Stewart committed suicide in solitary confinement, a criminal justice program in which an offender is locked in a small room by himself for an extended period of time. Stewart had been convicted of manslaughter in a drunk driving accident. Though 17 years old, he was tried as an adult and sentenced to time in an adult prison, where he was placed in solitary confinement to protect him from the other inmates. The psychological impact of isolation drove him to desperation; when he was forced to return to solitary after a stint in a shared cell, Stewart strangled himself with his bedsheets.
His death prompted many states to examine juvenile justice closely. Several, including California, reformed the process by decreasing the time youth serve in adult prisons. Responses to Stewart's suicide are emblematic of the recent clamor for further reform of the juvenile justice system.
Juvenile courts in the U.S. deal with about 1.7 million cases per year. Juvenile crime does not account for a high percentage of crime in the U.S.,  but recent debate has been ignited by the system's treatment of incarcerated juveniles.
The goal of the juvenile justice system is rehabilitation, and children in juvenile camps or state prisons are provided with education and treatment programs in an effort to prevent them from reoffending. However, many activists question the effectiveness of rehabilitation methods and cite facilities' use of solitary confinement, as well as a insufficient mental health and medical treatment, as evidence that the system is not adequately assisting inmates.
Additionally, certain segments of the population seem to be unjustly victimized by the system. African Americans comprise only 17% of the U.S. youth population, but they account for 30% of arrested minors, and Latino youth are 28% more likely than white youth to be detained. Similarly over-represented are foster youth, who are 55% more likely than non-foster youth to enter the justice system.
What consequences do arrested juveniles face? How and why does the system negatively affect certain segments of the youth population? And what reforms does the system need to implement in order to more effectively meet its goal of rehabilitation?
Specifics of the System
According to California's Legislative Analyst's Office, the goal of the juvenile justice system is rehabilitation rather than punishment. As a result, county probation departments and juvenile courts offer a range of sentences to arrested youths.
Once a police officer has arrested a child, he or she has the option of releasing the child to his or her parents with a warning or bringing the youth to the county probation department. The probation department can close the case, put the offending youth on informal probation, or refer the case to the district attorney's office. If the district attorney determines that sufficient evidence exists to prove the case to a judge beyond a reasonable doubt, he or she will file a petition with the juvenile delinquency court for a hearing. If the juvenile is found guilty, he or she will be declared a ward of the court and will receive a sentence.
Louis J. Goodman, a criminal defense attorney in Alameda County and former Alameda County Deputy District Attorney, said that attorneys are available for accused youth during the process. He added that one of the attorney's main goals is to prevent the case from going to adult court.
"The most that anyone can do in juvenile court, even on a really serious case, even on a murder case for example, is [hold the juvenile] until the age of 25," Goodman said.
Sentences range in severity depending on the crime committed. For lower-level crimes, youths can be put on formal probation or given "suitable placement" in a group home or rehabilitation program. Misdemeanors and felonies usually land a juvenile in a county facility, such as a juvenile camp or hall.
Although juvenile justice in California is mostly a county responsibility, youths charged with the most serious crimes are sent to the Division of Juvenile Justice (DJJ), a state facility that operates much like an adult state prison.
Some children are declared "unfit" for juvenile court and tried as adults. If convicted, they are placed in the DJJ until they turn 18, then transferred to state prison to finish their sentences. As of Dec. 31 2012, approximately 1,193 offenders occupied DJJ facilities.
Repercussions Realized
Several lawyers and experts in child psychology question the system's effectiveness. Critics argue that the disproportionate punishment of select population groups perpetuates a cycle of crime and that punitive measures cause psychological damage.
Conditions in facilities for juveniles have often been called into question. Farrell v. Allen, a 2003 lawsuit, denounced the DJJ for its insufficient care services. Investigators cited the facility's excessive use of force on inmates. The Division was forced to implement "remedial plans" that would provide better education services and treatment programs.
However, several facilities continue to employ methods of punishment that many deem unnecessarily damaging, such as solitary confinement. The American Academy of Child and Adolescent Psychiatry published a resolution in 2012, stating that "the potential psychiatric consequences of prolonged solitary confinement include depression, anxiety, and psychosis. Due to their developmental vulnerability, juvenile offenders are at a particular risk of such adverse reactions."
Shanise Owens, a Marriage and Family Therapist Intern who has provided counseling services at an all-male juvenile camp, agreed that solitary confinement could have detrimental effects on youth. She expressed that juveniles need to know why they are being punished.
"There is a need to help that individual work through whatever issue or problem that they were encountering rather than just punishing them," Owens said.
Other critiques revolve around the overrepresentation of certain groups in the system. Benjamin Chambers, Communications Specialist of the National Juvenile Justice Network, noted that the system seems to unfairly target African-American youth.
"Kids that pay the highest price tend to be disproportionately kids of color," he said.
Foster youth also comprise a large portion of juveniles in the system. These youths are called "crossover children" because they cross over from the child welfare system into the juvenile justice system.
Barbara Duey, a supervising attorney and Crossover Resource Director at the Children's Law Center of Los Angeles, specializes in dependency law, addressing the mistreatment of children. She explained that the abuse youths have faced, combined with the trauma of being taken away from their families and placed in foster care, has detrimental effects on their development. She added that foster kids are 55% more likely to enter juvenile justice than non-foster kids.
"[Foster kids are] over-arrested, over-charged, over-detained and over-sentenced and kept on probation longer," she said.
Jennifer Mayer, Head Deputy in the Juvenile Division at the LA County Public Defender's Office, explained that stricter regulations exist in foster homes and that as a result, foster children can end up in juvenile detention for offenses that other children might get away with.
"In a more public setting…there is less of a tolerance for behaviors that might be dealt with in the family. If you yell at your sister, you may not find yourself in juvenile hall. [But] if you push another resident in a group home, there are repercussions," she said.
Advocating for Reform
Camps provide a wide range of services. Juvenile facilities in California offer education classes, vocational, recreational and exercise programs, and counseling, such as anger management and substance abuse programs. However, many critics of the system assert that these programs are inadequate.
Duey believes that camps do not provide enough educational or mental health services to meet the needs of the incarcerated youths. She expressed her belief that camps should use trauma-based programs, which would help youths work through any past stress that has caused them to act out.
"The therapy has to take into consideration [the youths'] need to reconcile [with] the trauma that they've been exposed to," Duey said. She added that many juvenile camps in Los Angeles County do not offer trauma-focused programs.
Owens said she thinks that the effectiveness of education services depends on the child.
"I do think that [the camps] provide lots of opportunities; it really just depends on the individual, because some individuals find [education] extremely helpful… [but] for others because I think there were other issues clouding over them… education wasn't on the forefront of their minds," she said.
She explained that some juveniles need more counseling before they can focus on education. In situations like these, activists like Duey again stress the need for increased access to trauma therapy.
Duey also brought up the tendency to relapse into criminal behavior. Fifty to eighty percent of previously incarcerated juveniles will have future contact with the justice system. She described her experience with the problem of youth becoming regulars of the system.
"I started out representing adults, and then I [began representing] delinquents and saw where my adult criminals came from. They were the young juvenile delinquents that we couldn't help, who we couldn't steer off the path to prison," she said.
Owens said that many of the males at the camp where she worked told her that they had become repeat offenders because they felt that people had given up on them.
"I do think that's a message that… could be sent; that no one's giving up on them, that people are there to support them and help them," she said.