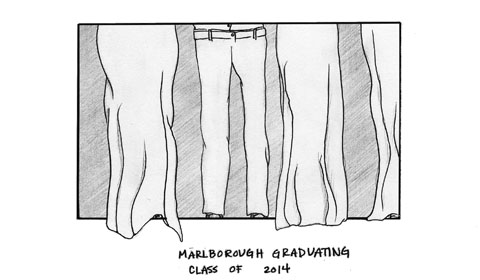 After becoming the first Marlborough School girl to don slacks rather than a skirt to Ring Ceremony, Nyala '14 received the administration's permission to wear white pants, in lieu of the customary white dress, to her graduation in May 2014.
Nyala said that she feels uncomfortable in skirts, so she has not worn one during the school day or for tennis matches since the end of her freshman year. She said that, even as a seventh grader, she felt uneasy in her uniform skirt. However, she did not then opt to wear pants because she saw only a few students wearing them and heard family and friends insisting that girls must wear skirts for dressy occasions.
Nyala noted that in 9th Grade she lacked the courage to dispute the skirt requirement for Pin Ceremony, but she attributes her newfound audacity to a desire to champion the cause for younger students.
"When I was in 7th Grade, I didn't feel comfortable wearing pants. It would've been cool if there was somebody in the older grades who was like, 'You know what? It's fine to wear pants!'" she explained. "I would've felt more comfortable with myself and not felt like I was so different and I was so weird."
Thus, a few weeks prior to Ring Ceremony last year, Nyala asked Assistant Head of School and Head of Upper School Laura Hotchkiss '86 for an exemption from the traditional Ring Ceremony attire.
Hotchkiss told Nyala that she would consider her proposal, but she stressed the formal significance of Marlborough's customs, which she said contribute to "the beauty of all girls' schools." Hotchkiss explained to Nyala that established rituals form Marlborough's identity.
"A part of the process [at all-girls' schools] is talking about those traditions and thinking about the ways in which those traditions build community over generations," Hotchkiss said.
Nyala expressed that the emphasis on Marlborough's customs frustrated her because "traditions aren't inherently good."
When, during an initial meeting, Nyala did not gain approval from Hotchkiss to wear pants, Nyala said that she would start a petition through which students, parents and faculty could advocate on her behalf and that she would use the UltraViolet to publicize her campaign. After consulting with Head of School Barbara Wagner, Hotchkiss authorized the alternative attire.
Coinciding with Marlborough's 125th Anniversary, Hotchkiss said that Nyala's wearing pants at graduation will signify the ultimate evolution of the School's cultural outlook. Hotchkiss alluded to Marlborough's transition from a finishing school to a professional school to a college preparatory school due to changing priorities over the 1920s, 1940s, 1960s, and 1980s.
"My hope is that Mary Caswell founded a school, and, over time, has created an environment that wants to prepare young women for whatever is out there, and that…is changing," Hotchkiss said.
Many students support the School's decision to break with longstanding customs in order to accommodate contemporary standards regarding gender.
"Marlborough's a very progressive school, but since these traditions were set in the past, they haven't really been reexamined," Molly '16 said.
Nyala emphasized that she hopes her permission to wear pants is norm-setting for younger students, recalling that the most gratifying response to her stance came from an anonymous Tumblr post from a girl in a younger grade who regarded Nyala as a trailblazer.
Nyala said that she sees a contradiction between Marlborough's core value of confidence and the requirement for girls to conform to feminine dress codes.
"The School talks about empowering women, yet [Marlborough was] kind of going back with sexist traditions by saying that women have to wear skirts and dresses," Nyala said.
She voiced her appreciation for Marlborough's promotion of girls' success through education and hoped that the inclusion of pants as an option for formal School occasions will further its aim to encourage self-assurance in students.
"Empowerment of women has to do with telling women that they should feel free to be who they are, and that they shouldn't give in to a lot of social expectations, and that they should try to break through that, and that they should make a difference," she said.
Moreover, she expressed that her respect for the School's egalitarian goals in all other fields compelled her to persist in her appeal, even though the complexity of the process disappointed her.
Because she believes that neither pants nor skirts are inherently gender neutral, Nyala contends that all girls should have the option to wear pants or skirts.
"In many ways, masculinity is considered a default in our culture instead of femininity. If dresses were to become gender neutral, it would mean changes in our social norms, but those norms have to be changed anyway," Clara '14 said.