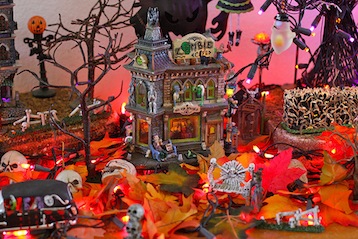 For every child, the month of October leading up to Halloween is filled with excitement. I don't know about you, but I miss the days when October was characterized by re-living Halloween traditions, not by the unbearable stress and anxiety of nearing the end of the first quarter. Let me just list some of the October childhood traditions that I know any kid from my generation looked forward to.
1) Watching the undeniably cheesy but entertaining Disney Halloween movies that I know you all have the urge to see again, even as mature teens. Back when there was a thing called "free time," October meant watching the classics: Twitches, Twitches Too, Halloweentown, Hocus Pocus, and many more.
2) Carving the most creative pumpkins that would outshine any of your classmates' or neighbors', and spending a ridiculous amount of time coming up with the most creative ways to decorate them.
3) Making a strategic plan for trick-or-treating with your friends to ensure that you got the maximum amount of candy. I know that when every child leaves the house for trick-or-treating with their posse, the only thing on their mind is how they can best fill their Halloween candy bag to the point of overflow.
As little kids, we thought that every Halloween would always be like this. But now Halloween has turned into either, a) an ordinary day just like any other, with the primary concern being how much work we can get done that night or, b) a competition for girls to see who can dress the most provocatively.
Halloween will always mean something different for little children than it does for teenagers. Nevertheless, I think that most teenagers don't want to admit, but secretly know, that every October they have an urge to put on some fuzzy socks, snuggle up in a blanket with some comfort food and watch those classic Disney Halloween movies.