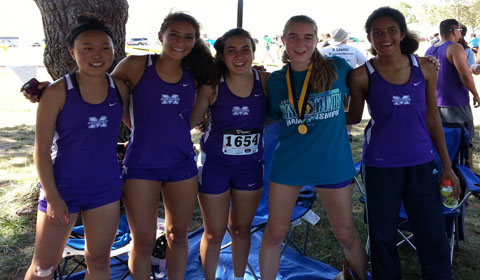 The Marlborough Cross-Country team trains after school four-to-five times per week and competes in frequent races. Assistant Coach Khanichi Charles said that the girls run as much as six miles during a typical practice, requiring extensive mental and physical preparation and helping to improve endurance.
"The objective during practice for cross country is to build endurance as well as speed, and the only way you can build endurance is by pushing your heart and pushing your muscles to go that distance," Charles said.
The warm-up alone is two miles, and Charles said that to complete the grueling workout that follows it, runners require both physical and mental strength.
"Because you're pushing your muscles, your lungs, and your heart so far, you start to feel bad halfway through a race, but you have to have a certain amount of mental toughness in order to get yourself through it," she said.
Students on the team feel that their training has paid off: Marlborough's Cross-Country team has already enjoyed many wins. Katherine '15 and Bianca '16 both came in first place for their age groups at the Rosemead Invitational on  Saturday, Sept. 14. Bianca, the only sophomore on the team, said that cross country takes a lot of work, commitment, and drive.
"Before practice or meets, I eat a banana and drink coconut water for energy, so I don't get tired after a couple miles. Also, when I start to get tired or get a cramp, I try to think about how fulfilling the end result will be instead of the pain I feel at that moment," she said.
Many people who attempt long-distance running complain about the common ailment of side cramps, including Visual Arts instructor Joshua Deu, who was briefly a member of his high school cross-country team. He said that he found the running very strenuous and is impressed by the athletic abilities of cross-country runners.
"I tried cross country in high school briefly…until I got one of those cramps," he said.
Deu does not run anymore and plans never to do so again.
"Girls in cross country are an inspiration. They have the level of energy that can only be seen in the ancient Aztecs and the Celts. When I watch them run, I think that I am so lucky to never again have to run as long and as hard as they do," Deu said.