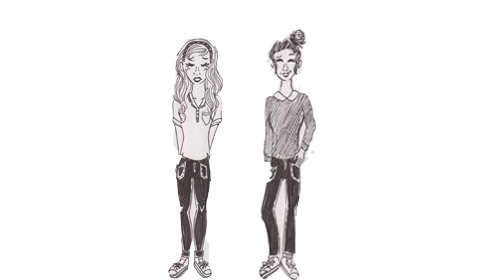 Students at Marlborough School have always had a dress code. Since the late 1920s, in keeping with trends, styles, and culture, the uniform has undergone only three major adaptations, the most recent one taking place this fall. The most surprising result of the Upper School uniform change is the appearance of pants on campus. Pants have not been popular to date, but now, girls are sporting black pants in every possible shape, style, and fit, from hip-slung and slouchy to sleek and body-hugging. Although we have seen many different types of pants worn by different people, on more than one occasion we have also seen the same pants worn on two different bodies provoke very different responses from faculty members.
We at the UltraViolet believe that girls are being punished not because of their actual pants, but as a result of their bodies or body types. The last thing we need is a uniform that makes us more body-conscious than we already are.
There have always been complaints about the uniform from faculty and staff. We can practically hear Mary Caswell chastising a turn-of-the-century student for wearing a blouse that fell more than one inch below the chin. While the new uniform has addressed some problems, such as sloppy-looking sweat pants worn under skirts that were ill-fitting to begin with, and skirt length, which is the most egregious issue of all, it has given rise to the highly controversial issue of body-shaming.
In an assembly this fall, an administrator singled out two girls. One girl was praised for wearing pants that fit well and looked appropriate, while the other was scolded for wearing pants that were too tight. Ironically, the girls were wearing the same pants. This leads us to believe that there is potential for girls to be judged on how they fill out their pants versus being judged on the pants themselves. In other words, we are liable to get infractions based on body type. Students at Marlborough are encouraged to be comfortable in their own skin regardless of how they look. Targeting girls based on size contradicts the ethos of our School.
One solution is to insist that all pants, like our skirts, come from DENNIS Uniform, which is not exactly known for its style. The DENNIS Uniform slacks are not fashionable and are therefore less appealing to fashion-minded Marlborough girls. This move would almost surely mark a return to skirts, the only distinction being that the skirts this go-round will be brand-new and no more than three inches above the knee.
If we wish to address the root of the problem, faculty and staff must be made aware of our sensitivity to body-shaming and be careful to dole out infractions based on our clothing, not our silhouettes.