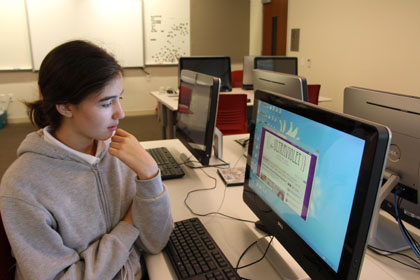 In order to keep up with the times, Marlborough School's administration decided to revamp the technology available on campus to students and recently switched from Mac computers to Dell workstations. According to Director of Administrative and Academic Technology Stuart Posin, the administration decided to update the computers around campus every four to five years, largely to avoid wasting money. If the computers are not changed at this rate, they will grow old and break down, and fixing them individually would be very expensive. Although the change might have been necessary, it has created a lot of problems for Marlborough students.
First, the replacement computers have not solved the problem of printing. The old Mac computers did not print to the Academic Resource Center (ARC) printers, but neither do the new Dell computers. Since we cannot print from the new computers, we have to use the old Dell computers, which are extremely slow. In the rush of printing out our papers before getting to class on time, it is difficult for us to wait 10 extra minutes while the computers start up.
Additionally, if the administration was looking for a less expensive alternative to Macs, why did it purchase touch-screen computers, which are generally more expensive? Many students believe that the touch screen has more disadvantages than advantages. Students dislike the fingerprints that are all over the computer screens, for example.
The UltraViolet staff is concerned that replacing the computers has simply created new problems for the student body.
New Dell computers do not have Mac apps like iMovie or iTunes, and the stand-in applications, such as Windows Movie Maker, are harder to navigate. Most students use Mac computers at home and find it difficult to transition to school PCs. In response to these problems, The UltraViolet staff strongly encourages the administration to provide tutorials for students on how to navigate the new computers and their applications.
The old Macs from the lab were supposed to be transferred to laptop carts in the ARC, but this transition has not yet occurred. The administration needs to clarify when and how Macs will be available. Otherwise, many students will be unaware that a Mac option still exists.
As time goes on, different computers will come into use and different advancements will be made. We understand that the transition to new computers was necessary, yet the change has led to problems that the administration should address.
If some of the suggestions presented here are implemented, we are confident that the new computers will benefit the entire community.