By: Lori '14 and Alex '14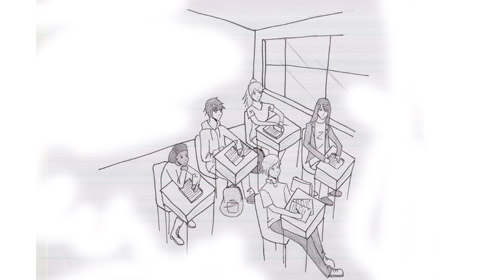 As the moon beat against the white Ford Thunderbird that he, his mom, and his two sisters had slept in for the past year, Logan* tossed and turned in the back seat, trying to get comfortable. His mother glanced at him from the driver's seat and slowly took his hand in hers, saying as she did every night, "Everything will be alright. I will always be keeping an eye out." Slowly, Logan drifted off to sleep, wondering if he would ever sleep in a bed again.
At age 10, Logan and his family were displaced from their home after his mother lost her job. Families like Logan's are not uncommon in the Los Angeles area, where 20% to 43% of the homeless population consists of families typically led by single mothers. Since 2011, homelessness in Los Angeles has increased by 16%, and the number of unaccompanied youths on the street has increased by 122%.
While the number of homeless people living in L.A. has increased, the number of shelters and other institutions that provide support for the homeless has not. As a result, more homeless youths, families, and adults are filling the streets of Los Angeles.
So what is the truth about homeless youths? How can we confront and break down society's stereotypes surrounding homeless people? What are shelters doing to help these individuals get off the streets and turn their lives around?
TRUTH ABOUT HOMELESS YOUTH
Contrary to popular belief, an estimated 12,000 to 15,000 youths under the age of 24 live without the shelter of a home in Los Angeles, making up about 21.8% of the entire city's homeless population.
"The number one response [I get] when explaining the shocking number of youth that sleep on the streets each year is 'Really? I never see homeless youth on the streets,'" Corporate and Community Affairs Manager Jessica Witt from Los Angeles Youth Network (LAYN) said.
Most minors on the streets are living without parents. According to Melanie Merians, the Chief Development and Communication Officer at Covenant House, homeless youths are usually runaway youths, throw away youths, and youths emancipated from foster care. Runaway youths are children who have left home due to unsafe or stressful living conditions, and throw away youths are minors whose families have neglected them. According to Merians, young people coming out of the foster system often find themselves living on the streets.
"The system as it stands now is that if you are 18 years old and you are in foster care, then on your birthday you are given a certificate, a judge shakes your hand, and you're an adult. They're 18 years old and never worked, so what happens is that over half become homeless in a couple of months," she said.
Just as Logan did, most youths hide their living situations from police or peers. Logan's family became homeless in the middle of the school year, so he could continue to attend school without the school asking for a home address. Unaccompanied youths, however, have a harder time enrolling in school. While Logan may have appeared as a typical student, he did not feel comfortable talking about his situation with anybody.
"It was hard and embarrassing at the same time. All my friends that I would hang out with weren't in the situation that I was in… I just thought they would judge me because of that, so I just kept it to myself," Logan said.
HARMFUL MISCONCEPTIONS
Inaccurate stereotypes about homelessness lead many to ignore or misunderstand homeless people. Many people, including Grace '17, believe that homeless people are at least partially responsible for their situations.
"They refuse to get help from other people," Grace said.
However, some young adults simply do not know how or where to get help, while others are too embarrassed to ask for assistance which occurs, according to CEO of Union Rescue Mission Reverend Andy Bales, because they have lost the ability to communicate and make connections. Josie Carbajal, a Case Manager for Covenant House California, added that some youths also find it hard to trust others.
"Many of them have been exposed to parents who let them down or were not consistent. They didn't have anyone really around them in [a] family structure so it is more difficult for them to trust an individual that they don't know," Carbajal said.
Many students believe that homeless people live on the streets because they are mentally unstable.
"They have a mental illness, like they hallucinate or something," Jenna '17 said. However, statistics report that only 25% of the homeless population is mentally ill.
"Some homeless people do have mental disorders, come from abusive families, are lazy, etc. And the same is true with some permanently housed individuals. There are grains of truth in all stereotypes," President and Executive Director Loren Franck from the Westside Homeless Outreach said via email.
According to Merians, homeless youths do not have much faith in themselves because they have experienced an insufficient amount of love and trust.
"Definitely the kids themselves feel like trash. People won't look at you. They think, 'What you are doing hanging out all day when you could be working?' Then it becomes really challenging to address those emotional misconceptions of their own life and instill in them a sense of value and dignity," Merians said.
SEEKING SUPPORT
While shelters provide important resources for people struggling with homelessness, their resources are not always taken advantage of by those who need them.
Some youths feel reluctant to reach out to a shelter because they fear rejection and disappointment. According to Tanisha Bundy, the Outreach Coordinator for Covenant House, it usually takes anywhere from 3-12 months to establish trust with homeless youth. Additionally, because of the economic recession, shelters are struggling to keep all of their programs fully funded and running smoothly. Bundy believes that with more government funding and support from the community, shelters would be able to reach their full potential.
"I feel that the community should stand behind agencies such as this, not shun them," Bundy said.
Meg*, a teen who faced 25 years in prison for committing a violent crime, got help from LAYN Grants and Foundations Manager Jen Kehs, who met Meg through a tutoring program. Meg's charges were dropped to a misdemeanor and, with the help of Kehs and LAYN, she turned from a homeless prostitute and criminal to a working college student.
"When miracles like that happen, you have to take advantage. I knew I couldn't do things the way I did last time… I went to college a week after I graduated high school, and now I am a biochem major. I really do want to change the world," Meg said.
Many people, even after they move out of the shelters, stay in touch with the case managers who helped them.
"I still have youth that come back and visit me who are doing really well. They are living in their own apartment and have their full time job, so that is always the best to see when clients are doing great," Carbajal said.