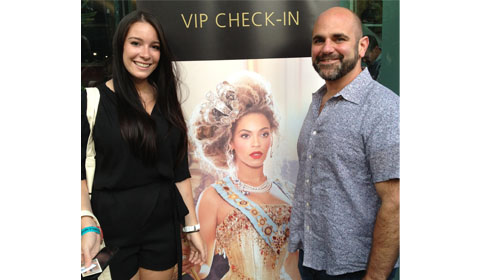 Last May, Mathematics Department Head and instructor Chris Talone was sitting at the back of his classroom when he saw an advertisement on the sidebar of a web-page, which read "MasterCard Priceless VIP Experience." Intrigued, he clicked on the ad, filled out a form, and shortly thereafter received an email telling him to click a designated button at noon on May 24. On that day, he pressed the button, and the page read, "Congratulations! You are a winner!"
A week or so later, he got an email from someone at MasterCard who told him he was the Los Angeles winner of two VIP tickets to the July 1 Beyoncé concert. Additionally, Talone won tickets to the pre- and post-show parties, two $150 gift cards to Beyoncé.com, and two $600 credits to Rent The Runway.
Zoe '15, who was in Talone's Khan Academy class last year, said that she never thought people actually won online contests.
"From now on, I'm going to compete in every online and radio [contest]!" she said.
Talone was shocked to find out that none of his friends wanted to go with him because they weren't interested in seeing Beyoncé live, so he ended up taking his partner's son's girlfriend, Samantha Anastasi. Talone said that if he hadn't won the contest, he probably would have bought tickets to the show anyway, since he had seen Beyoncé live before and knew that she was a phenomenal performer.
When they arrived at the pre-show party, Talone and Anastasi were excited to see that some of Beyoncé's backup dancers were there, and they got a chance to talk to them. Once they arrived at the Staples Center, they were shown to their seats, which were directly in front of one of Beyonce's stages.
During the show, she began singing "Irreplaceable" and flew over the crowd, landing on the round stage Talone was standing next to. While she was singing and dancing on-stage, Talone suddenly realized that she was holding the microphone up to him, urging him to sing along.
"I'm singing 'to the left, to the left' in the microphone and then I look up at her and she's holding my hand and I'm making eye contact with her. I thought, 'Oh my god I had just had a moment with Beyoncé,'" he described.
After the concert, Talone and Anastasi were driven to the after-party, where they mingled with celebrities including Rashida Jones, Robert Pattinson and Brian Grazer. He was still in awe that he had won and said the entire night felt unreal, but the most incredible part was singing along with Beyoncé.
"I've been to concerts before, but I never thought it would happen to me," he said.