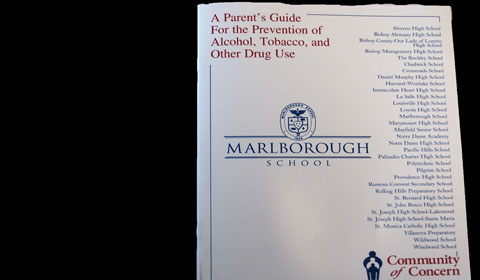 As parents flooded into the halls of Marlborough School on Thursday, Sept. 19, during the annual Parents' Night of Classes, they were eager to learn about and experience their daughters' classes for the new school year. The first place the parents were sent was their daughters' advisory. Though, traditionally, this was a time for parents to mingle and get to know their daughters' advisors, this year the time was used to provide each parent with a pamphlet entitled, "A Parent's Guide For the Prevention of Alcohol, Tobacco, and Other Drug Use," which informs parents of the many dangers of substance abuse.
The idea to distribute a pamphlet was not an entirely new one; a similar pamphlet was passed out six years ago. School Counselor Emily Vaughn and the administration had been toying with the idea of bringing it back for a long time. According to Vaughn, "the goal of the pamphlet is to educate parents on drugs and alcohol, as we do their daughters, so that together they might engage in conversations about substance abuse prevention."
Between seventh and ninth grade health classes, and an eighth grade lecture from a drug prevention program called Miles to Go, students gain a clear understanding of substance abuse and its side effects. However, there are few opportunities for the parents to gain any knowledge of the issue. The pamphlet was given out to eighth to 12th grade parents because, as the pamphlet says, "it is never too early to start the dialogue about the dangers of substance abuse."
A big focus of the pamphlet is prescription drug abuse, since prescription drugs are often easily accessible to young people. In addition, the pamphlet focuses on how drugs and alcohol can affect the brain and its ability to develop. Physical Education instructor Tinka Brown says, "There's a lot of scary things out there and we need to make parents aware of them."
The pamphlet is used by 33 schools including, Harvard-Westlake School, Loyola High School, and Marymount High School. It was produced by an organization called Community of Concern, which strives to "keep youth alcohol and drug free." The Understanding is printed in the back of the pamphlet to remind the parents of the School's expectations regarding their daughters' behavior.
Overall, Marlborough believes that in order to help its students strive and reach their full potential there needs to be a collaboration between teachers, administrators, parents, and students. Vaughn said, "Our goal is that we are part of the team that surrounds the girls and it's important that everyone has information to help [students'] well-being. And parents are a very, if not the most important, part of that team effort."