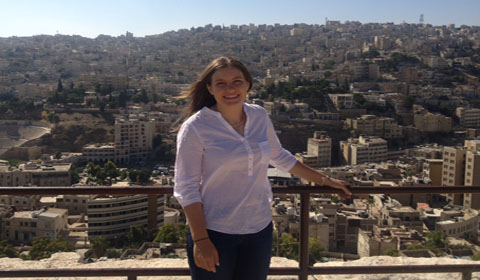 On Aug. 18 2013, Libby '15 stepped onto the tarmac at Queen Alia International Airport in Amman, Jordan, marking the beginning of her life-changing journey. As soon as she left the Amman airport in a taxi, everything immediately became a whirlwind. Libby mentioned that as she drove through the city, the traffic around her was incredibly chaotic. Much to her surprise, there were no lanes or traffic lights. As she raced through the city, she noted how every single building she passed was white, contrasted against the black night sky.
Libby is currently enrolled as a foreign exchange student at King's Academy in Madaba, Jordan and is the first teenager from California to ever attend the school. King's Academy, founded in 2007, is a college-preparatory, independent, coeducational boarding and day school that has an American style of education in the liberal arts and sciences, mixed with Middle Eastern history, traditions, language and cultural values.
Libby is currently taking two classes of Arabic per day, along with AP World History, Physics, Pre-Calculus, and World Religions. At the moment, she is enrolled for the first semester but remains unsure whether or not she will enroll for another semester or return to Marlborough.
Having been on multiple community service trips to countries like Thailand, India and Mexico, Libby has always loved to travel. Her fascination with Jordan, began in seventh grade when Queen Rania Al Abdullah of Jordan visited Marlborough to promote the Girl Up campaign, a campaign of the United Nations Foundation that encourages American girls to raise awareness and funds for UN programs that give adolescent girls in developing countries the opportunity to become educated, healthy, safe, and positioned to be future leaders. Libby's fascination continued into eighth grade, when she chose Jordan for her country research report in Global Studies.
It wasn't until last year that Libby and her parents began researching King's Academy. Libby's father noted that they were shocked the first time Libby told her parents about her interest in attending King's Academy.
"We thought she was crazy!" he said. Although her parents were hesitant to let her go at first, once they had done plenty of research and spoken with multiple contacts, they realized that she would be completely safe in Jordan, which they learned was highly unlikely to be consumed by the current crisis in Syria.
When it came time for Libby to apply, she asked Mathematics Department Head Christopher Talone to write her recommendation letter.
"When she came to me in the middle of last year and told me she was applying to a school in Jordan, I had to look on a map to see where the country was exactly," Talone said jokingly. Talone was also skeptical of Libby's interest in attending a school in the Middle East.
"I was surprised. It's not everyday that you hear someone saying, 'I'm going to go to Jordan!' I even asked her if she thought it was completely safe," Talone said.
Libby said that not only does she feel safe, but she is having the time of her life.
"Before I left, a lot of people were quick to judge and would tell me how unsafe it was. It's different, but I'm safe. I'm fine, and I am loving it so much. It has been such an eye-opening experience," she marvelled.
Libby's parents are equally as happy: "[Libby's mother and I] are just so glad that she is having such a good time," Libby's father proclaimed.
Nonetheless, Libby said it has been difficult getting used to Jordanian culture, especially her new wardrobe.
"Even shorts that we would consider way too long in Los Angeles, I don't feel comfortable wearing out in public. I get stared at even when I am wearing pants and a long-sleeved shirt, since I have blonde hair and blue eyes."
On the more serious side of things, Libby expressed that adjusting to Jordan's religious and political realms and relating to many of her new friends' lifestyles has come with challenges. Specifically, Libby said that the Syrian crisis has affected many of her friends and has therefore emotionally impacted her as well.
"One of my best friend's mom lives in Syria, and the other day he thought he was saying goodbye for the last time while talking to her on the phone. This is why, for me, everything that is going on is now personal."
Libby said she is constantly seeing Syrian refugees in Jordan. According to The UN Refugee Agency, there were an estimated 600,000 Syrian refugees in Jordan as of July 7, 2013.
Libby went on to explain that these emotional experiences have completely changed her view on Syrian relations.
"When my friends start talking about how Obama is going to bomb Syria, where a lot of my friends have family members, I'm embarrassed. It's a lot to take in." She explained that these frequent experiences have put things in perspective and caused her to realize how critical the relationship between the United States and Jordan is.
Despite the challenges that have come with moving to Jordan, Libby stressed the fact that she formed strong friendships much more quickly than she expected. One of her friends even gave her a Jordanian name, Ferah, which she now often goes by.
Libby added that the most shocking aspect of her new school is how diverse her friends are, even though most of them are from the Middle East. She noted that many of her friends speak different languages. Even though she doesn't know what they are saying most of the time, she has received warm welcomes from all of her classmates.
"They love Americans!" Libby said lightheartedly.