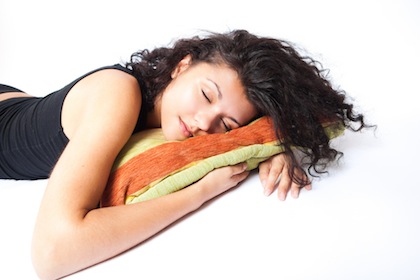 Everyone has had that frustrating moment when a dream was so outstandingly vivid that the dreamer couldn't tell whether it was real or not. This is when lucid dreaming becomes a handy skill.  Lucid dreaming is a state in which you are aware that whatever you are experiencing is a dream. Lucid dreaming lets you control your dreams and enter a world within your own mind. In this world, you can do anything your heart desires! There are no limits and no consequences. If you can imagine it, you can do it, and all while sleeping peacefully. Lucid dreaming is a learnable skill that can be used for living out fantasies. In your dream, you gain complete control over what feels like the real world. The dreams feel very realistic and are vivid.
The best time to lucid-dream is when you are extremely tired. I recommend going to bed late and then waking up early in the morning around 6 (or earlier). Stay awake for a few hours in order to make yourself really tired, and then go back to sleep.
Follow these steps in order to experience a lucid dream:
1. Lie on your back with your arms at your side and eyes closed. STAY PERFECTLY STILL.
2. You must stay awake. Your brain will send signals to your body to see if you are ready to sleep. These signals include: getting an itch, changing your body position, and/or wanting to blink or move your eyeballs. (Remember, your eyes should be closed.) YOU MUST IGNORE ALL OF THESE IMPULSES.
3. After 20-30 minutes, you will feel a weight on your chest; you may even hear weird noises. You are now in sleep paralysis; if you open your eyes, you will begin to hallucinate (dream with your eyes open), and you will not be able to move your body.
4. Your body is now completely asleep. Now that you are aware you are dreaming, you can shut your eyes and begin to dream instantly.
5. You will be fully aware that you are dreaming and can now (with some practice) control your dreams.
6.  When you wake up from your dream, stay still and focus on what you dreamt about. One of the most important things to lucid dreaming is keeping a dream journal. Keeping a dream journal will allow you to remember your dreams and make it easier to lucid-dream in the future. Make sure to record as much detail as you remember (what you saw, smelled, touched, etc.). The more you lucid-dream, the more interesting the dreams get. You will be able to remember more details and have more control of your dream.