It's a new year, and a new bakery just opened on our favorite street. Located on Larchmont, next to the Wittmore and Corridor stores, Clark Street Bakery's first opened on Jan. 9, and I had to try it to give you my recommendations. First of all, when you walk in, you are immediately greeted by warm, cozy smells and a very aesthetically pleasing atmosphere. It is both classic and chic. Currently the bakery is only take-out, but they will soon have an adorable eat-in patio. The display of breads and pastries is beautiful, and it is literally impossible to decide which ones to try first because they all look so good.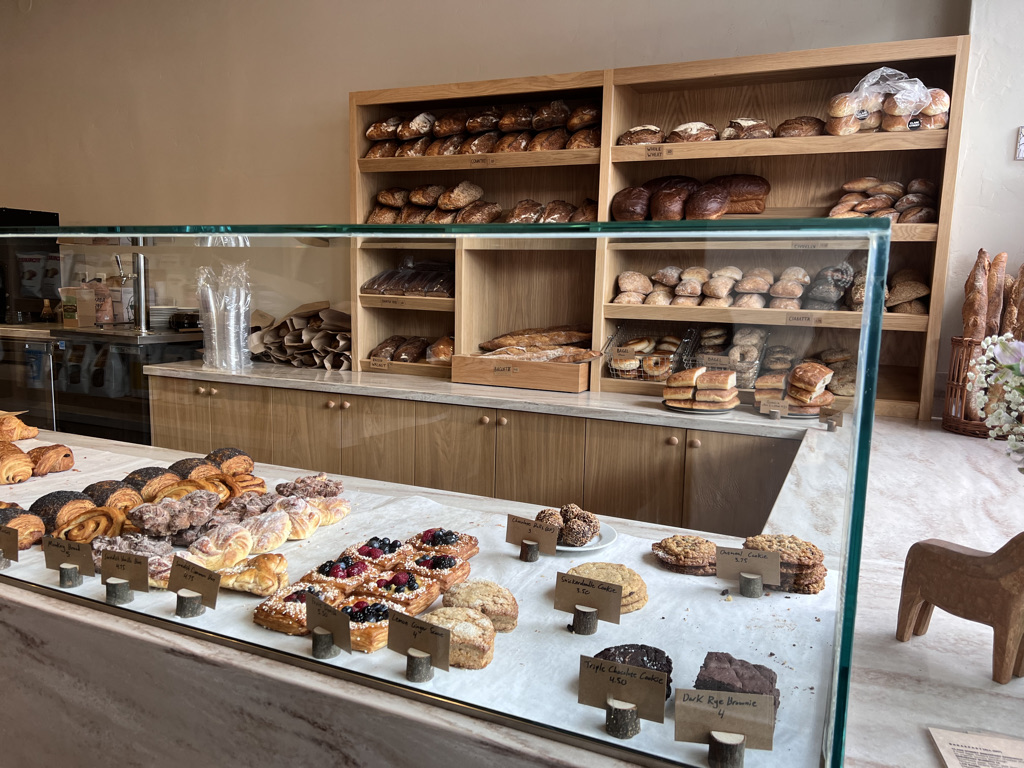 After ruminating for some time, I finally chose two different types of Swedish buns: the vanilla Swedish bun and the cinnamon Swedish bun. You may be wondering what Swedish buns even look like. They are little round twists that are so easy to pull apart and eat. The vanilla Swedish bun was covered in delicate sugar and tasted like a sugar cookie. It was light and doughy with lemon and cardamom undertones that would be perfectly paired with a coffee. The cinnamon Swedish bun was fluffy on the inside and tasted as if a cinnamon roll met a croissant. These pastries will be your next favorite sweet delight and are different from any other confection I have had before.
I also tried their French omelette, which smelled delicious and tasted even better. It was warm and creamy on the inside, and I loved the chives. It was beautifully cooked and came with a baguette like no other. The edges of the baguette were crispy, and the middle was soft and buttery. I also had some of their Danish rye bread. It was so authentic and tasted just like the bread used for the smørrebrod (open faced sandwiches) I've tried in Copenhagen. I highly recommend pairing their Danish rye bread with avocado to make the perfect avocado toast.
Clark Street has many other types of sandwiches and breakfast dishes made with their out-of-this-world breads. A few that I would like to try next time include their turkey pesto sandwich, eggs on a raft (scrambled eggs on sourdough), challah french toast and their lox bagel. Finally, I recommend trying their homemade orange juice that was sweet and tangy.
Owners Zack Hall and Michaela Westerlund started the bakery at their apartment on Clark Street in West Hollywood. It was inspired by a trip over the summer to Westerlund's family home in Sweden, where Hall made wood-fired bread in a bakery. Today the bakery has six locations all around Los Angeles, including Larchmont, Brentwood, Echo Park, Sunset Blvd., and Hollywood. There is a reason why it is so popular. It is rustic and cute, not to mention the food is magnificent and so scrumptious.
Next time that you stop on Larchmont for a quick breakfast or snack, I highly suggest checking out Clark Street Bakery. The hours are not fixed, but for now they are open from around 8:00 a.m.-3:00 p.m. They have something for everyone, sweet and savory, and will become your new go-to-place. Stay tuned for the next Ava's Eats Review. Xo