By Anabel '23 and Abigail '24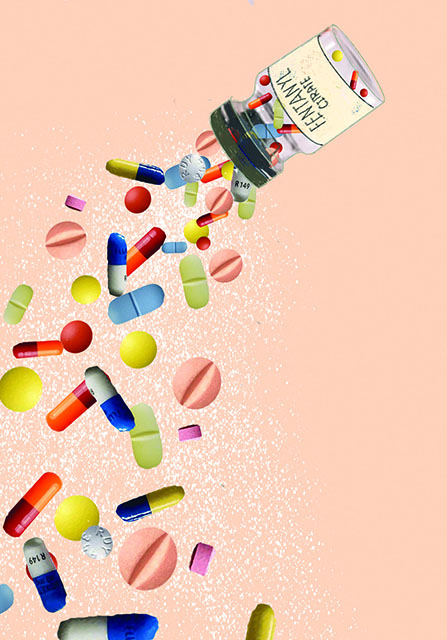 Developed in the 1950s as an intravenous anesthetic, fentanyl has emerged in recent years as a culprit in the majority of drug overdose deaths in the United States, along with similar synthetic opioids. The recent history of fentanyl, a legal prescription drug, has been marred by a dramatic increase in both the theft of licit fentanyl and the production of counterfeit fentanyl in the last decade.
With a potency 100 times stronger than morphine and 50 times stronger than heroin, fentanyl consumption is often fatal, especially for those who rarely use it and therefore have low tolerance to opioids.
This makes the recent trend of fentanyl lacing, the addition of fentanyl to other drugs like marijuana and cocaine, especially concerning. Many drug users are not aware that they are even consuming the opioid. Additionally, illegal drug suppliers are also creating fake versions of prescription pills like Xanax that contain fentanyl, called "fentapills."
"When kids use other recreational drugs, there can be lacings of fentanyl, which is an extremely potent and potentially fatal drug," said Dr. Luis Martinez, a pediatrician for the Optum medical group in the San Gabriel Valley.
While it seems counterintuitive for drug dealers to dose their supplies with a deadly drug, leading to the deaths of their consumers, fentanyl's highly addictive properties can create an ever-growing customer base for dealers. Because of its intense potency, dependence on the drug can be quick and the withdrawal symptoms even more severe. These factors motivate illicit drug manufacturers to lace other drugs with the opioid.
The growing number of fentanyl overdoses in the U.S. has permeated other sectors of American life. According to an NPR/Ipsos poll, 39% of Americans blame "unauthorized migrants" for the illegal import of fentanyl into the country. This number grows to 60% when polling just Republicans, which contrasts 23% of Democrats given the same prompt. However, this claim is blatantly false. Most fentanyl, and illicit drugs more broadly, are brought into the country via official ports of entry rather than by cartels or migrants.
Health and Wellness Instructor and Coordinator Nicole Beck and others have pushed back on the use of the word "overdose" to describe those who have passed away from unknowingly consuming fentanyl, instead using the term "fentanyl poisoning."
"We have to be careful when we speak about those who have died from fentanyl," Beck said. "There is so much stigma around substance use in general, and framing it in a way that takes the blame off a person who is accidentally poisoned is important."
Fentanyl poisonings have had a distinct impact on younger people. According to the organization Song for Charlie, which advocates for education about the danger of fentapills, fentanyl is involved in 79% of drug deaths among Generation Z, or people born from around the late 90s to early 2010s. The high risk of fentanyl poisoning younger people is due to a myriad of factors, including social media.
In recent decades, social media has become central to the lives of most people, particularly younger generations. Teenagers spend hours every day (an average of four, according to Forbes magazine) online, browsing the internet and consuming content. However, the incredible ease and potential anonymity of online communication has made social media sites, such as Snapchat or Instagram, platforms for those selling drugs. Thus, young people are uniquely susceptible to buying what they think are authentic prescription drugs but are really laced with fentanyl.
"There are drug dealers online who are intentionally posing as people with actual prescriptions," Beck said. "However, they are really just trying to sell their illegal drugs."
Another factor placing younger people at risk of fentanyl poisoning is a lack of access to mental health treatment. The COVID-19 pandemic exacerbated mental health struggles for teenagers, with the Center for Disease Control stating that more than 37% of high school students reported experiencing poor mental health during the pandemic. When coupled with a lack of access to mental health resources, some teenagers have turned to drugs for assistance.
"If someone does not have access to getting a mental health diagnosis, talking to a therapist or even talking to a school counselor that could help refer them to other services, they might try to seek out their own solution like buying a pill," Beck said.
However, there are meaningful steps that can be taken to protect communities from fentanyl poisoning. Beck explained three aspects of keeping teenagers safe: never taking other people's prescription medication, educating students about the danger of fentanyl and fentapills and empowering students to take advocacy about this topic into their own hands. Increased access to naloxone, a life-saving drug that can reverse poisoning from opioids, can also provide an extra layer of safety in cases involving fentanyl consumption among young people.
"A little over a year ago, I was out with a group of people when someone [who wasn't a Marlborough student] overdosed on fentanyl," an anonymous Marlborough student said. "It was really scary and I didn't know what was happening, so recently I bought Narcan [the brand name for naloxone] to make sure that if anything like that ever happened near me, I wouldn't have to feel so helpless and could possibly save someone's life."
The anonymous student said that the person who overdosed survived after medical intervention.
Another student at Marlborough, Naomi '24, has created the Fentanyl Fight Club as a part of her Health 11 Independent Project, which aims to raise awareness about fentapills and naloxone. As the leader of the Fentanyl Fight Club, Bernstein organized an advisory educating students about the dangers of fentanyl and other substances during the celebrations of Halloween weekend. The club, which has another chapter at Brentwood School, is one step among many to ensure the safety of students both in the Marlborough community and across the country.
"We have access to so many different resources and to use our voices to make meaningful and positive changes," Naomi said. "We have the ability to not only use these resources within our school environment, but within Los Angeles and many more places, and I want to take part in that and use my voice for positive change."
Some changes are currently underway on campus after the School launched an emergency naloxone plan in late November.
Nurse Myra Mercado emailed staff and faculty in search of volunteers who would be trained to administer naloxone in possible emergency situations.
According to Mercado's email, the volunteers would "serve as designated folks on campus to intervene if a person is suffering, or reasonably believed to be suffering, from an opioid overdose."
Volunteers will also be trained on how to identify opioid overdose symptoms, learn emergency follow-up procedures such as calling 911 and receive instruction on the storage and restocking of naloxone.
In addition, naloxone cabinets will be placed in eight locations around campus, including the nurse's office in the Combs Athletic Center, the athletic training facility, the security kiosk located on West 3rd Street, Munger Hall Room D204, the main reception desk, the pool deck, CEI and at the entrance of Café M above the fire extinguisher.
Each cabinet will contain a naloxone kit containing two doses of Narcan.