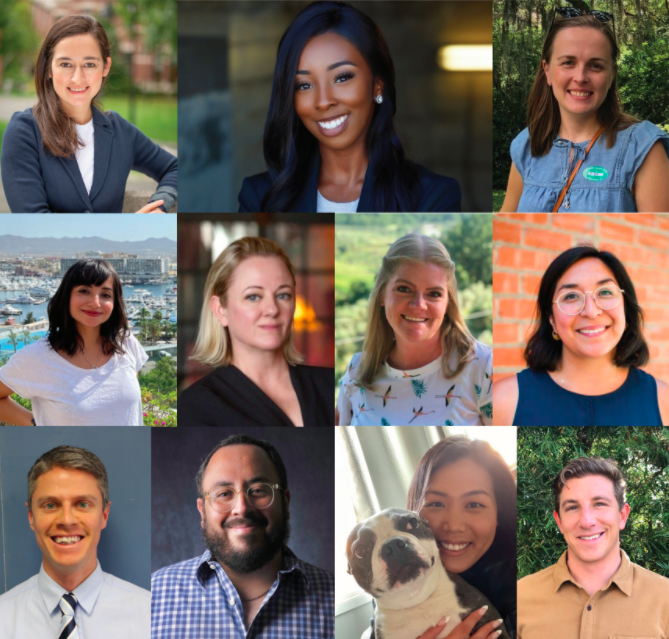 Over a dozen new faculty members will be joining the Marlborough community this year. Here are some of the new teachers:
History
History and social science instructor Charles Willis will teach History 8 and History 9. Willis previously taught for 12 years at Revere High School and Lexington High School in Massachusetts.
"I am most excited to meet the students that make up such an energetic and vibrant school community," Willis said.
History and social science instructor Mindy Kim was previously the history department chair at TREE Academy, where she taught history and women's studies.
"This job allows me to learn so much from students with your unique identities, personalities, passions and talents," Kim said.
English
English instructor and yearbook co-advisor Caitlin Newby '09 is a Marlborough alumna who will become a permanent teacher after working as a long-term substitute last year. Newby was the founding poetry editor of the literary magazine "The Tangerine" and lived in Belfast, Northern Ireland for many years.
"The thing that I am most excited about coming back to at Marlborough­—I was a student here way back when!-—is its engaged, enthusiastic and close-knit community," Newby said. "I can't wait to experience all the memorable Marlborough traditions again as a member of the faculty."
English instructor Daniel Robles spent 13 years as an educator at Loyola High School, before coming to Marlborough to teach English I, English II, English IV and Honors Latinx Literature. He studied English and Latino Studies at Columbia University as an undergraduate, before receiving a MA in Secondary Education from Loyola Marymount University.
"I come from a Mexican immigrant family," Robles said. "Both my parents, now U.S. citizens, came to this country looking for a better future for themselves and their nuclear families; because of my parents' hard work and sacrifices, my older sister and I, as first-generation students, were able not only to graduate from college but also complete our graduate-level / professional career goals. I've worked hard my whole life to be where I am now and expect nothing less from my own students, both in and out of the classroom."
English instructor Ilyana Contreras has taught in New York City public schools and the Episcopal School of Los Angeles before joining Marlborough.
Math
Substitute mathematics instructor Scott Comley was a teacher for over ten years before coming to Marlborough. At Marlborough, he will teach Geometry and Algebra 2 Honors with Trigonometry while mathematics instructor Ariana Wall is on maternity leave. Apart from teaching, Comley has been a Manhattan Beach junior lifeguard instructor for nine years and is a lifeguard himself. He is looking forward to the unique learning environment at Marlborough.
"I am most excited about two things: Marlborough being a small school so I can really focus on each student's progress, and the fact that the math department teaches in a 'traditional' way with lectures on whiteboards and quizzes/exams to test knowledge," Comley said.
World Languages
World languages instructor Anais Pineda will be teaching French 1A and Spanish 1A this year. She was born in France and grew up in Honduras. Pineda has a B.A. in French and applied linguistics from UCLA and a Masters in French and TESOL from New York University. Along with learning new languages and visiting wildlife sanctuaries, Pineda has other hobbies.
"Every time that I go to a new country I bring cat treats from that country for my cat Tesla," Pineda said.
World languages instructor Laura Jensen is coming to teach French 3/3 Honors and Honors French and Francophone Literature and Cinema after being a lecturer in the French Department at Smith College. She is currently writing a novel and has a new rescue puppy. Jensen loves to learn from students through her teaching.
"I've been studying and teaching French language and literature for a long time now, but I never want to feel like I'm done learning," Jensen said. "So when students ask questions or express an interest in a book or a poem I'm not an expert in, I love going down research rabbit holes, finding out more, and discovering new areas of my field together."
World languages instructor Joy Cho is an incoming Mandarin teacher at Marlborough. Cho majored in education management at QuFu Normal University and early childhood education at Tai Shan University. She also previously taught in Singapore.
Art
Visual arts instructor Sarah Beadle is joining Marlborough as a new photography teacher. She will teach Beginning Photography and AP 2D Art. In the past, Beadle has run fine dining restaurants, designed costumes for the Ontological-Hysteric Theater in New York City, and taught art at the university level.
"The best thing about teaching is that you get to share something you are dedicated to (indeed, that you have devoted your life to) with young people," Beadle said. "I also get to provide the means to courage and confidence in both the mediums I instruct and the young people utilizing them to discover and share their personal voice and vision."
Visual arts instructor Daphna Lapidot will also be teaching photography at Marlborough.
Entrepreneurship
Entrepreneurship instructor Diondraya Taylor has been a part of many different startups and worked on encouraging women to become involved in STEM entrepreneurship. At Marlborough, Taylor will be teaching Entrepreneurship 101.
"I'm most excited about the incredible students at Marlborough," Taylor said. "Entrepreneurship is a particularly student-driven subject and I am looking forward to seeing the creativity and passion present in Marlborough students."
College Counseling
Interim Dean of College Counseling Maggie Lucas worked at NYU for 13 years, most recently as the NYU Director of Evaluation and Strategy. Lucas will be a new Dean of College Counseling at Marlborough starting this year.