Marlborough employees have begun to receive the Covid-19 vaccines after gaining eligibility in LA County on March 1. The school is also partnering with other Los Angeles independent schools to create a vaccine pod, where vaccines are reserved for employees at those schools. This will ensure that all faculty and staff have the opportunity to get vaccinated. People who are part of the pod will receive their first vaccine dose on March 20, and their second dose on April 17. Although vaccines were initially scarce, they have become easier for school employees to receive, according to Human Resources Manager Cliff Hahn.
"Vaccines are more available now than they used to be," Hahn said."We obviously had to wait until March 1 because prior to that we weren't eligible for vaccines. Luckily, the state and the city has allocated a certain percentage of vaccines [for school employees]. In addition, we have been able to coordinate efforts with some other independent schools in our areas, so we were able to secure a certain allotment of vaccines for our staff and faculty."
Some teachers initially had trouble securing an appointment even after they were eligible.
"There were a lot of sites that I checked like 10 times," History and Social Sciences Instructor Thomas Millar said. "I got up early, I checked with different zip codes…There was definitely a frustrating week where I was trying to get an appointment… and hearing about other people getting appointments and not being able to get an appointment."
It took most people between one to two hours to get vaccinated, although the amount of time ranged from only 15 minutes to over three hours. History and Social Science Instructor Josiah Cameron was vaccinated at the Cal State LA site run by the National Guard, which was very efficient.
"You go in there, you get in a line with your car and the line sort of snakes through the Cal State LA Campus," Cameron said. "You get your jab, you do not even leave the car, you stay right in the car. And then they have you go and drive into another area where you just sit there for about 10 or 15 minutes to ensure that there is no adverse reaction to the vaccine. And after that they just release you and you drive on out."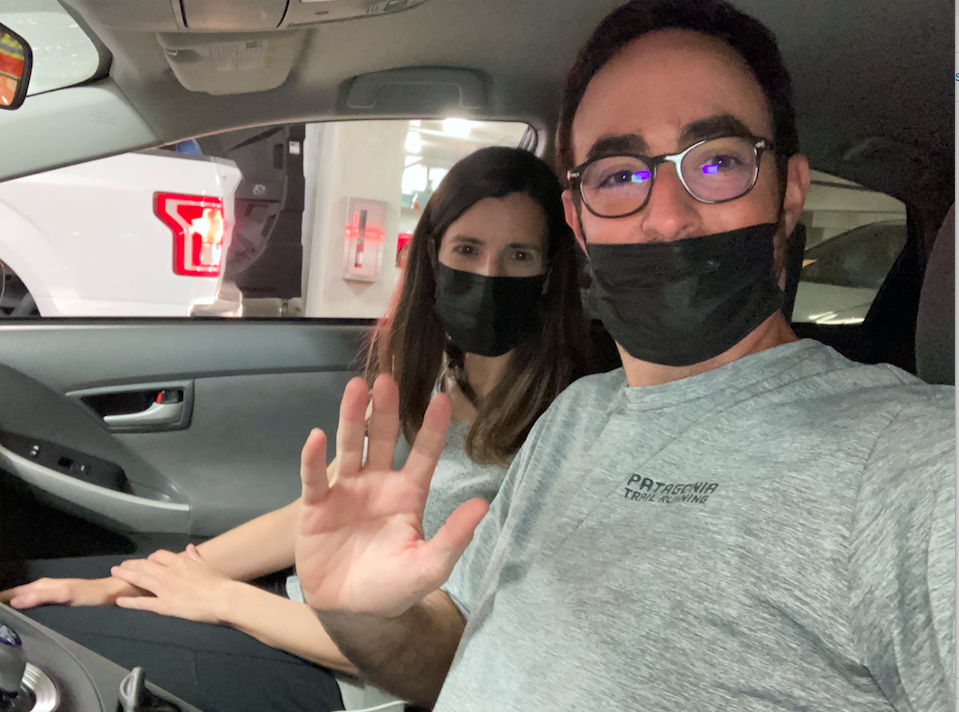 Other Marlborough employees were vaccinated at Dodger Stadium, including School Nurse Olivia Ceja. Ceja found it inspiring to get the vaccine in such an iconic LA location.
"It was actually really cool to go to Dodger Stadium for something outside of rooting on one of my favorite teams in LA," Ceja said. "To get a vaccine with a Dodger Stadium view just felt like LA again. It felt like the LA community coming together for sure. And it was a surreal moment to have a vaccine in my arm instead of a Dodger dog in my hand."
Some teachers felt grateful for the opportunity to get vaccinated.
"It's pretty relieving," Debate Coach and Program Head Adam Torson said. "I was essentially live tweeting to a friend group, so I told my friend group that I had been vaccinated and told my family that I had been vaccinated so I was pretty happy about that."
Media Studio Specialist Erick Huezo felt like being vaccinated was the first step in the return to normalcy.
"Now I feel like I can see the light at the end of the tunnel with this pandemic," Huezo said. "In a few more weeks I will take my second dose and I will feel even more relieved and ready to begin life again with a new appreciation for the little things I've missed this year."
However, for other people being vaccinated did not change their outlook on Covid-19.
"Mentally, I was not all the sudden like 'I am super protected now, I have an extra layer of protective coating,'" Millar said. "For this I am more collectively minded. The thing that is making a difference to me is different news sites like The New York Times that indicate what portion of the California population has had a vaccine yet…once that number looks like it is 50%, 60%, that I think mentally will be the thing that makes a bigger difference."
LA county will vaccinate all people 16 and older starting on April 13, enabling many students to receive the vaccine in the coming weeks. The vaccination effort made Ceja more optimistic about the future after Covid.
"I think it was just a really humbling experience to see so many people come together for this large effort," Ceja said. "It was just an incredibly humbling feeling to get vaccinated and feel like there is some glimmer of hope and light and the end of this very long tunnel."