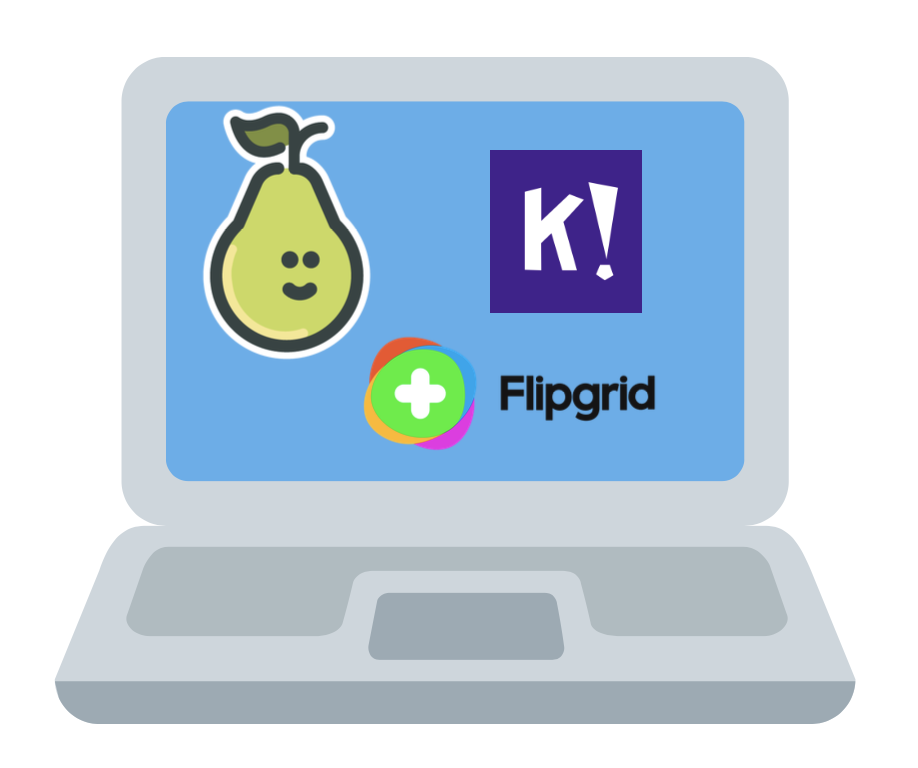 With the COVID-19 pandemic overtaking people's lives, a major shift has occurred in the way we come about our days. Zoom, an online video conferencing platform, is one of the many ways people have learned to adapt, making video conferencing and synchronous learning available to Marlborough students and faculty. However, teachers have had to adapt their methods in order to fully engage the classroom, often using interactive online platforms besides Zoom. But how effective are these for learning?
Pear Deck is an interactive online platform used by almost half of the 15 Marlborough teachers who took a survey. "Breaking the silence in a Zoom class can feel weird," mathematics and science teacher Erin Perez says. This is where Pear Deck comes in; this platform serves as an easy way to integrate student-teacher interaction via Google Slides, enabling teachers to confirm students' understanding of a certain topic, ease their anxiety about participation, and even check students' emotional wellbeing. However, Pear Deck doesn't allow teachers to easily collaborate on the same project and students using the platform have to join the Pear Deck from another website than the teacher. Pear Deck is largely used because of the missing, in-person interactions that would exist in a physical classroom; its features are designed for on-screen interactions.
"I miss the random in-class shares during class that ignite a pleasant brain break in the form of an unrelated, amusing personal short story or one that's related to the understanding of science," Crystal Buckley, science instructor, said. Once classes are back in person, Pear Deck shouldn't be a necessity, because live participation will be easier for students.
Another platform that has been particularly imminent with distanced learning through the pandemic is Flipgrid. Flipgrid is an online tool which allows students to film videos in response to a prompt given by their teacher. Although it has been used before the pandemic, the importance of Flipgrid in the classroom now is highlighted. Teachers have been using the platform to get to know their students and as an alternative homework assignment. It has been used for many subjects throughout Marlborough. In world language classes, teachers use Flipgrid to assess their students' pronunciation and fluency.
"I really appreciate the ability to listen to what they're saying and to be able to provide feedback through Flipgrid itself, even if it's just two sentences acknowledging an important point or two that they made," History and Social Sciences Department Head Jonathon Allen said.
As Flipgrid and Pear Deck continue to make academic classes more interactive, a student favorite is Kahoot. Before the pandemic, Kahoot was used in classrooms and class meetings. Nonetheless, the game-like multiple choice competition is also frequently used on Zoom by more than 60% of Marlborough teachers that took a survey. However, there are some concerns over the productivity of Kahoot.
"I find Kahoot interactive and engaging but [it] doesn't effectively demonstrate full conceptual knowledge; while Kahoot is a fun way to review fact-based learning as well as a fun social activity, I don't know if it's particularly useful for preparing for more rigorous, formative assessments," Violet '24 said. The competitive aspect of Kahoot may also be a concern.
"As much as I love Kahoot, the competition can be too much at times. I'm not always sure students are learning or able to review in a meaningful way," Mathematics instructor and CSF coordinator Jennifer Uribe says.
Distanced learning has challenged teachers to rethink their class structure and the platforms they utilize. Are these platforms useful in student participation or do they distract students, completely contradicting their goal? "Sometimes simplicity is the way to go." English instructor Elias Johansson-Miller said, "It can feel like these programs are bells and whistles, but don't really add much educationally."