Members of the Marlborough Armenian Club joined protestors from all across Los Angeles by coming together on Oct. 11 to spread awareness about the conflict occurring in Artsakh. Armenia and Azerbaijan have a long history of fighting over Artsakh.
Artsakh is an independent state between Armenia and Azerbaijan that is closely tied to Armenia. Artsakh is a part of Azerbaijan under international law but is governed by Armenia. The fight over Artsakh has been going on for 32 years, with the last attack in 1994 killing thousands of people. The countries never reached a clear resolution over who had sovereignty over Artsakh. The attack on Sept. 27 reignited the decades old conflict.
Since Artsakh is a small state, many people in the United States are not aware of the situation. Organizations that want to protect Artsakh organized a protest in Los Angeles. The protest started at Pan Pacific Park and ended at the Turkish Embassy in Los Angeles.
Members of Marlborough's Armenian Club marched in support of the Armenians in Artsakh. Eloise '24 attended the protest with her family and was moved by the support she felt to stop the violence in Artsakh.
"I felt like there were so many people who cared for the Armenian community and it felt very empowering," Eloise said.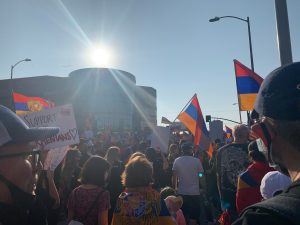 Marlborough's Armenian Club wants to spread information about what is going on in Artsakh as well as do whatever they can to help the people in Artsakh. Co-leader Isabella '23 included information about Artsakh in emails that have been sent out to the school with resources to learn more and how to get involved. She also has ideas for how the Armenian Club can raise money and awareness about Artsakh but this has become more difficult with the restrictions from COVID-19.
"If we were at school, we would want to do a bake sale to bring in money to the Armenia fund but it is hard to make a profit with school being online," Isabella '23 said. "We might start making buttons about Artsakh so that people will wear them."
If you want to support Artsakh, look out for email updates from the Armenian Club as well as contact Isabella '23 for any ways to help.