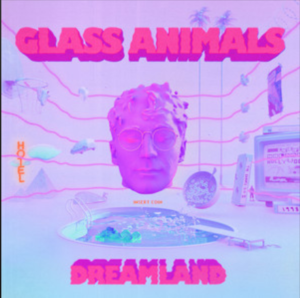 The Glass Animals, a psychedelic pop band, released their seventh album "Dreamland," on Aug. 7, 2020. Talented hip-hop artist Denzel Curry is the only featured artist on the album. "Dreamland" stands out among The Glass Animals' other releases because in between a few of the songs, the album has little snippets of audio which they title, "((home video))" which is unique just to this album. The snippets of audio can either be a few words, some background noise, or even in "((home video:shoes on))," a mother and a young child can be heard talking with a therapeutic song playing in the background.
The Glass Animals formed in Oxford, England in 2010 with members Joe Seaward, Dave Bayley, Drew McFarlane and Edmund Irwin-Singer. Their debut album was "Leaflings." The band attracted attention in summer 2016 through the release of How To Be a Human Being. The band's popularity dwindled after the album's initial release, but they garnered media attention once again when "Take a Slice" blew up on TikTok in mid-January 2020.
The most popular songs from their newest album are by far "Heat Waves" and "Tokyo Drifting" featuring Denzel Curry. "Heat Waves" has become Glass Animals' most-streamed song. Both songs feature deep bass layered with high-pitched riffs that match the singer at certain points in the song for a really one-of-a-kind sound. "Tokyo Drifting" is my favorite of the two because Curry's verse is such an energizer that will be added to my workout playlists. "Dreamland" is available on all streaming platforms, and it should definitely be featured on your 2020 playlist.
Glass Animals was this month's featured band for the Monthly Music Commentary. Each month, I'll also be doing a section called ON THE LOOKOUT for up and coming or underground artists to spotlight their new music. ON THE LOOKOUT is great for the Marlborough community to discover new music as it comes out, and listen to it before it becomes super mainstream. For my ON THE LOOKOUT of August, I chose the XXL Freshman Class. For those not familiar, XXL is a hip-hop magazine, and every year they announce the "Freshman Class" of new hip-hop artists who are currently making their debut in the music industry. After the official class is chosen, XXL posts a YouTube video of the artists freestyling together. You can stream it on YouTube right now by looking up "XXL 2020 Freshman Cypher," and can hear the amazing freestyles put together by a collective of new artists.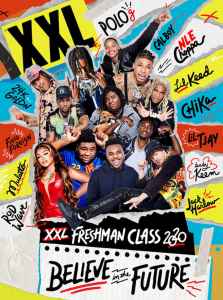 For this year's freshman class, twelve artists were chosen, and a few stood out among the bunch. Polo G, NLE Choppa and Lil Tjay have shown they truly deserve their spot in the class this year. NLE Choppa is well-known for his very fast-paced rapping on an upbeat track, which gives me a lot of energy; his music makes many of my playlists. His most well-known songs include "Camelot" and "Shotta Flow," featuring one of the West Coast's most popular rappers of the 21st century, Blueface. Lil Tjay made his debut to the rap community on Polo G's album, "Die A Legend" where Tjay had a feature on the hit song, "Pop Out," which blew up on TikTok in 2019. Lil Tjay's talent shines in his poetry-like rapping, where he truly tells a story of how he got to where he is today. Yet again, TikTok blew up another rapper, Polo G, in 2019 with the song "Neva Cared," notable to the summer 2019 sounds. Polo G started releasing music in 2018, and didn't receive any recognition until 2019. His spot in the XXL 2020 Freshman Class gained him more attention this year. Many of the 2020 Class have collaborated with much bigger artists, such as Juice WRLD, Blueface, and Pop Smoke. The 2020 class is nothing less than legendary, and will be one of XXL's best Freshman Classes.